Harloeg
Jump to navigation
Jump to search

Harloeg is an area within the Lone-lands, in the south-eastern region.
Harloeg (Sindarin for Southern Pool) is a forested wetland basin. The eastern part of Harloeg is mostly forest, where trolls are known to have holdouts, while the western area is barer and wetter, with haunted ruins lining the southern cliffs. To the north of Harloeg lie the hills of Talath Gaun.
The ruined fortresses of Nindor and Ost Haer are found here. At the latter are found some odd individuals, whereof one is involved in deciphering runes of the past and might give a clue to the epic events that affected the Lone-lands this badly. At his locations is also found a Camp Site Fire and quest givers.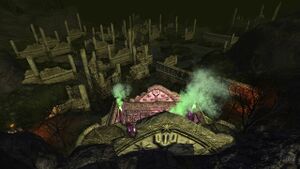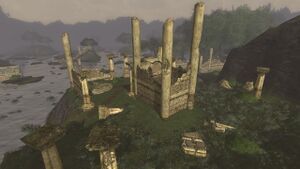 NPCs
See "list of NPCs" within this area
Haerloeg Swan - Quest
Quests
See "starting quests" and the landmarks for more quests
Involving:
Creatures
The following creatures are found within the area:
Maps
Gallery