Haerondir
Jump to navigation
Jump to search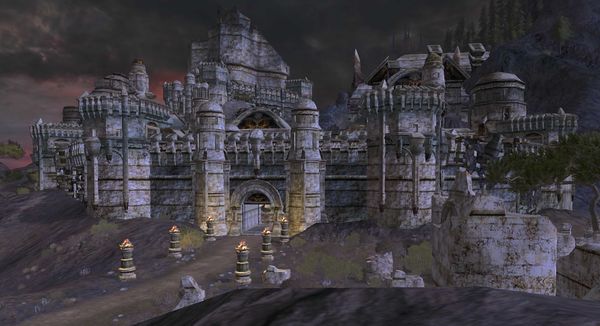 Location
Haerondir (Sindarin for Remote-watch) is a settlement located within the area of the Noman-lands in the Wastes. [36.6S, 8.9W] It is currently occupied by the Rangers of Ithilien and the Host of the West. Their enemies believe the ruins are haunted, and the Rangers are doing what they can to keep it that way.
Services
The following services can be found within the settlement of Haerondir:
Mailboxes
Tasks Bulletin Board
Crafting
Travelling
NPCs
Quests
Maendal
Mincham
Laeglaw
Artamir or Faramir, son of Ondoher
Anborn
Faramir, son of Ondoher
Echil
Mílgamel quests
Candúr
These quests unlocks in sets of 3. Turning in one quest from a set unlocks the next set. Completing this quest chain will unlock the final quests needed to unlock the fellowship crafting instances. The final quests are listed under The Slag-hills.
Note: If you only want to unlock the crafting instances, you simply need the sequence The Escape -> The War-party -> The War-leaders, and can ignore the other Lang Rhuven quests.
Gallery