Duvuinen
Jump to navigation
Jump to search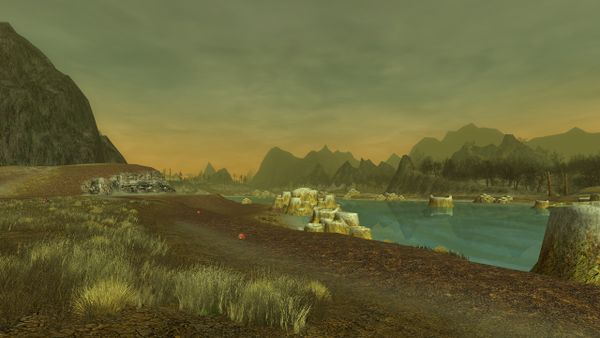 Duvuinen is an area within Angmar in the south-eastern region.
Surrounded at all sides by Eastern Malenhad lies this sulfuric lake with crystal clear water. Duvuinen is Sindarin for "Beloved Nightfall" which probably refers to the lake gleaming in the late sun-set, at least it did before the shadow of Carn Dûm begun to blanket the lands of Angmar. Most of the lake is no more than a foot deep, though the southern section near the passage to the dwarven, mining outpost of Gabilshathûr is considerably deeper.
Some creatures from the surrounding areas lie sunbathing at the shores, mainly fiery worms, neekerbreekers, and slugs, but the waters themselves lie undisturbed. The dwarves from the nearby outpost speak of a massive turtle, Gaeruan who has made her nest in the center of the lake, though sightings of her are rare.
Quests
Involving:
Mobs
The following creatures are found within this area:
Rowing threat
Maps
Gallery