The Festival Arena
Jump to navigation
Jump to search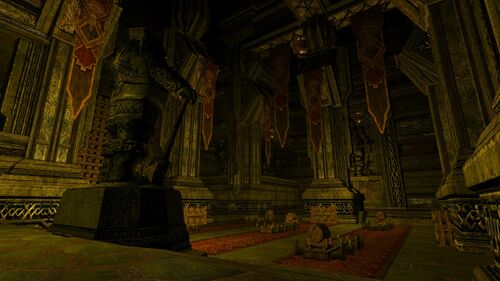 The Festival Arena is found in the basement of Thorin's Hall.
This arena is also know as "Thorin's Ale-hall" and it is reached either from Thorin's Hall Inn or directly from Thorin's Gates. The latter is via an entrance just at the mailbox next to Bogi Deepdelver, a perfect short-cut to the Inn. [13.8S, 103.3W]
The Festival Arena is used during Anniversary Celebrations and certain Special Events. The rest of the year the big hall lies dark, unused and in silence, except for the occasional gurgles from the many ale barrels.
Deeds
Quests
These quests are available during Anniversaries
Starting
Involving
NPCs
Gallery