Superior Farmland
Jump to navigation
Jump to search
Effect
Crafting Facility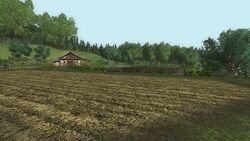 All crops can be grown in Farmlands.
As of Update 11, LOTRO adjusted all crafting facilities to be used as regular and superior across the world, and all non-unique facilities had the word 'Superior' removed from their names. Historically, Superior Farmlands were required for Farmers who were using recipes from Artisan level and above. They also served lower level recipes.
Locations
The Farmlands have an Expert Farmhand on site to assist with recipes and supplies, and nearby workbenches for processing the harvests.
Location / Area
Region
Coords
Falathlorn
Ered Luin

[27.6S, 93.1W]

The Greenhouse
Ered Luin

[13.8S, 103.0W]

Hobbiton-Bywater
The Shire

[30.5S, 70.6W]

South Fields
The Shire

[34.5S, 74.7W]

Staddle
Bree-land

[31.1S, 48.6W]

Bree West Gate
Bree-land

[29.3S, 52.2W]

Ost Guruth
The Lone-lands

[31.3S, 30.0W]

Oatbarton
Evendim

[23.3S, 67.4W]

Higher level regions
Galtrev
Dunland

[79.6S, 16.2W]

The Vineyards of Lórien
Lothlórien

[19.0S, 63.9W]

Ost Galadh
Mirkwood

[14.5S, 51.1W]

Langhold / The Wold
East Rohan

[36.5S, 51.5W]

Eaworth / Entwash Vale
East Rohan

[47.2S, 63.9W]

Snowbourn / Sutcrofts
East Rohan

[61.4S, 62.4W]

Eastfold
West Rohan

[65.0S, 62.2W]

Tadrent
West Gondor

[74.4S, 62.3W]

Glaniath
Eastern Gondor

[80.8S, 29.5W]

Arnach
Eastern Gondor

[76.2S, 23.3W]