Nanoth
Jump to navigation
Jump to search
| | |
| --- | --- |
| | Nanoth |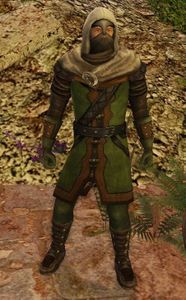 Description
Nanoth is a Ranger of of Ithilien serving as a Roving Threat Quartermaster in Bâr Húrin in South Ithilien.
---
Roving Threat Quartermasters can be found in regions where Roving Threats have been included. They offer quests to defeat these creatures on a daily basis. They also redeem

 Gift-giver's Brand for First Age Weapons and random other items.
Eriador
Rhovanion
Gondor
Quests
Barters
Roving Threats
Item to Receive
Items to Trade
 

Phial of Bear's Strength

50 Gift-giver's Brands
 

Phial of Ground Athelas

50 Gift-giver's Brands
 

Phial of The Anduin's Waters

50 Gift-giver's Brands
 

Tapestry of Fear and Flame

50 Gift-giver's Brands
 

Tapestry of the Nine

50 Gift-giver's Brands
 

Tapestry of the Great Dragon

50 Gift-giver's Brands
 

Tapestry of the White Tree

50 Gift-giver's Brands
 

Tapestry of the Moon

50 Gift-giver's Brands
 

Tapestry of the Ship-kings

50 Gift-giver's Brands
 

Tapestry of the Seven Stars

50 Gift-giver's Brands
 

Tome of the Pond Frog

30 Gift-giver's Brands
 

Anfalas Scroll of Empowerment

10 Gift-giver's Brands
 

Cryptic Heritage Rune of Legend

30 Gift-giver's Brands
Beorning Weapons
Item to Receive
Items to Trade
 

Unearthed Beorning's Axe of the First Age

50 Gift-giver's Brands
 

Unearthed Beorning's Great Axe of the First Age

50 Gift-giver's Brands
 

Unearthed Beorning's Dagger of the First Age

50 Gift-giver's Brands
 

Unearthed Beorning's Spear of the First Age

50 Gift-giver's Brands
 

Unearthed Beorning's Club of the First Age

50 Gift-giver's Brands
 

Unearthed Beorning's Great Club of the First Age

50 Gift-giver's Brands
Burglar Weapons
Item to Receive
Items to Trade
 

Unearthed Burglar's Sword of the First Age

50 Gift-giver's Brands
 

Unearthed Burglar's Dagger of the First Age

50 Gift-giver's Brands
 

Unearthed Burglar's Mace of the First Age

50 Gift-giver's Brands
 

Unearthed Burglar's Club of the First Age

50 Gift-giver's Brands
Captain Weapons
Item to Receive
Items to Trade
 

Unearthed Captain's Sword of the First Age

50 Gift-giver's Brands
 

Unearthed Captain's Greatsword of the First Age

50 Gift-giver's Brands
 

Unearthed Captain's Axe of the First Age

50 Gift-giver's Brands
 

Unearthed Captain's Great Axe of the First Age

50 Gift-giver's Brands
 

Unearthed Captain's Dagger of the First Age

50 Gift-giver's Brands
 

Unearthed Captain's Halberd of the First Age

50 Gift-giver's Brands
 

Unearthed Captain's Mace of the First Age

50 Gift-giver's Brands
 

Unearthed Captain's Spear of the First Age

50 Gift-giver's Brands
 

Unearthed Captain's Hammer of the First Age

50 Gift-giver's Brands
 

Unearthed Captain's Great Hammer of the First Age

50 Gift-giver's Brands
 

Unearthed Captain's Club of the First Age

50 Gift-giver's Brands
 

Unearthed Captain's Great Club of the First Age

50 Gift-giver's Brands
Champion Weapons
Item to Receive
Items to Trade
 

Unearthed Champion's Sword of the First Age

50 Gift-giver's Brands
 

Unearthed Champion's Greatsword of the First Age

50 Gift-giver's Brands
 

Unearthed Champion's Axe of the First Age

50 Gift-giver's Brands
 

Unearthed Champion's Great Axe of the First Age

50 Gift-giver's Brands
 

Unearthed Champion's Dagger of the First Age

50 Gift-giver's Brands
 

Unearthed Champion's Mace of the First Age

50 Gift-giver's Brands
 

Unearthed Champion's Spear of the First Age

50 Gift-giver's Brands
 

Unearthed Champion's Hammer of the First Age

50 Gift-giver's Brands
 

Unearthed Champion's Great Hammer of the First Age

50 Gift-giver's Brands
 

Unearthed Champion's Club of the First Age

50 Gift-giver's Brands
 

Unearthed Champion's Great Club of the First Age

50 Gift-giver's Brands
Guardian Weapons
Item to Receive
Items to Trade
 

Unearthed Guardian's Sword of the First Age

50 Gift-giver's Brands
 

Unearthed Guardian's Greatsword of the First Age

50 Gift-giver's Brands
 

Unearthed Guardian's Axe of the First Age

50 Gift-giver's Brands
 

Unearthed Guardian's Great Axe of the First Age

50 Gift-giver's Brands
 

Unearthed Guardian's Dagger of the First Age

50 Gift-giver's Brands
 

Unearthed Guardian's Mace of the First Age

50 Gift-giver's Brands
 

Unearthed Guardian's Spear of the First Age

50 Gift-giver's Brands
 

Unearthed Guardian's Hammer of the First Age

50 Gift-giver's Brands
 

Unearthed Guardian's Great Hammer of the First Age

50 Gift-giver's Brands
 

Unearthed Guardian's Club of the First Age

50 Gift-giver's Brands
 

Unearthed Guardian's Great Club of the First Age

50 Gift-giver's Brands
Hunter Weapons
Item to Receive
Items to Trade
 

Unearthed Hunter's Sword of the First Age

50 Gift-giver's Brands
 

Unearthed Hunter's Axe of the First Age

50 Gift-giver's Brands
 

Unearthed Hunter's Dagger of the First Age

50 Gift-giver's Brands
 

Unearthed Hunter's Mace of the First Age

50 Gift-giver's Brands
 

Unearthed Hunter's Bow of the First Age

50 Gift-giver's Brands
 

Unearthed Hunter's Crossbow of the First Age

50 Gift-giver's Brands
 

Unearthed Hunter's Spear of the First Age

50 Gift-giver's Brands
 

Unearthed Hunter's Club of the First Age

50 Gift-giver's Brands
Minstrel Weapons
Item to Receive
Items to Trade
 

Unearthed Minstrel's Sword of the First Age

50 Gift-giver's Brands
 

Unearthed Minstrel's Dagger of the First Age

50 Gift-giver's Brands
 

Unearthed Minstrel's Mace of the First Age

50 Gift-giver's Brands
 

Unearthed Minstrel's Club of the First Age

50 Gift-giver's Brands
Rune-keeper Weapons
Item to Receive
Items to Trade
 

Unearthed Obsidian Rune-stone of the First Age

50 Gift-giver's Brands
 

Unearthed Icy Rune-stone of the First Age

50 Gift-giver's Brands
 

Unearthed Flint Rune-stone of the First Age

50 Gift-giver's Brands
Warden Weapons
Item to Receive
Items to Trade
 

Unearthed Warden's Sword of the First Age

50 Gift-giver's Brands
 

Unearthed Warden's Axe of the First Age

50 Gift-giver's Brands
 

Unearthed Warden's Dagger of the First Age

50 Gift-giver's Brands
 

Unearthed Warden's Mace of the First Age

50 Gift-giver's Brands
 

Unearthed Warden's Spear of the First Age

50 Gift-giver's Brands
 

Unearthed Warden's Hammer of the First Age

50 Gift-giver's Brands
 

Unearthed Warden's Club of the First Age

50 Gift-giver's Brands
 

Unearthed Warden's Javelin of the First Age

50 Gift-giver's Brands
Cosmetic Pet Gallery