Crafting Hall of Ost Galadh
Jump to navigation
Jump to search
"I like this land. It reminds me of the twilit wilds, far away in the North, where my heart remains." - Calenglad
Location Stub
This article or section is marked for missing location information.
Please visit Create new location and help expand knowledge about this wondrous place.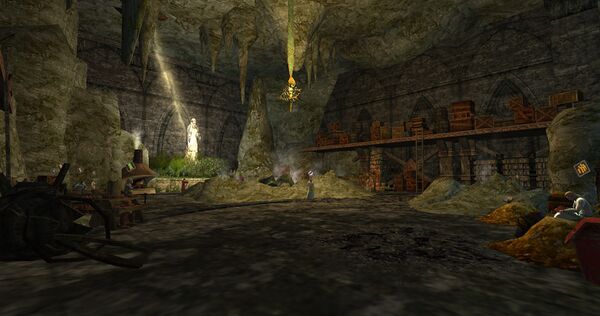 Location
The Crafting Hall of Ost Galadh is the main crafting hall of all Mirkwood; found inside a cave in the city of Ost Galadh in Emyn Lûm. [14.5S, 51.1W]
Facilities
NPC's
Trivia
It is possible to use the Superior Forge while standing 3m above ground level, on top of several crates.
It is a mystery what Rory Bolger is doing here, since there is no workable farmland anywhere near. It is obvious, though, that he feels small between all those tall elves: thus he stands on a stool. Give him a hug when you walk by.
Gallery