The Fanged Pit camp
Jump to navigation
Jump to search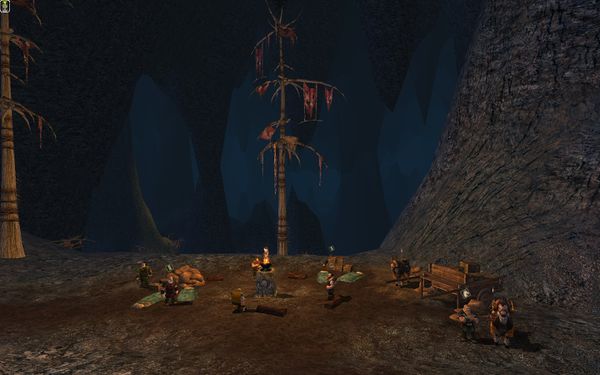 <br?
Description and Location
A band of dwarves has established The Fanged Pit camp at the edge of the Fanged Pit to keep watch over the merrevail's activities. It is located within the area of Durin's Way in Moria. [3.5S, 103.3W]
Services
The following NPCs provide services.
Travelling
Deeds
Quests
Starting
Involving
NPCs
Lore
The Fanged Pit is a breeding place for Merrevail (singular: Morroval). It is the area in Moria beneath Lumul-nar, the Hall of Mirrors. While in Lumul-nar, you can see The Fanged Pit from above as you stand on the scaffolding around the big lens (or on the big lens) where the final boss, Ergoth, is fought.
Remember Moria is vertical from one area to the next as you go more south on the in-game map, as evidenced by The Endless Stair, which you can see in several zones as you travel deeper into Moria.
Merrevail vary from "normal" to Signature and are always aggressive. They are weak to Beleriand damage and resistant to Common and Tactical damage.