Scholar's Guild-hall
Jump to navigation
Jump to search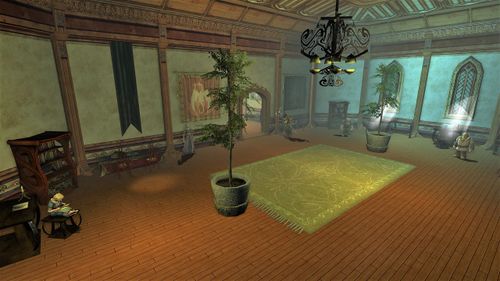 Scholar's Guild-hall is an interior within the Last Homely House in Rivendell Valley. [29.6S, 3.3W]
The Scholar's Guild is a crafting guild that is found on the second floor of the southern wing, just under Elrond's Library. It can sometimes be hard to spot the door label as it hovers near the ceiling. This guild rewards scholars that have gained required standing with access to improved or special recipes; see the vendors respectively.
The guild also has representatives in:
Within the guild hall is also a Vault-keeper found. It should also be noted that within the guild-hall is also a Superior Study conveniently located.
NPCs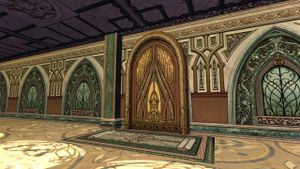 NPCs are also found in these locations:
Quests
Involving:
Reputation
In order to gain reputation in your chosen guild, you must:
Purchase guild recipes from Melongene Took, the Scholar's Guild Scroll Recipes vendor
Craft any or all of the recipes to make "scrolls"
Right-click on the scrolls to gain guild reputation. Consider using a reputation accelerator (may be granted by Hobbit presents, or purchased from Marks vendor).
Remember to repeat the process of making each scroll each day, and consume it to gain reputation.

with normal real life interruptions, a character can gain Westemnet standing with the Guild in about a month

The easiest way to reach Honoured (Minas Ithil) Master of the Guild standing is to have the Minas Morgul Expansion.
If you don't have the Minas Morgul Expansion you can use the "old" guild recipes to gain the 200.000 rep needed.
Item
Points
Cooldown
 

Small Expert Scroll

300  
18 hours
 

Medium Expert Scroll

900  
2 days 18 hours
 

Small Artisan Scroll

400  
18 hours
 

Medium Artisan Scroll

1,200  
2 days 18 hours
 

Small Master Scroll

500  
18 hours
 

Medium Master Scroll

1,500  
2 days 18 hours
 

Large Master Scroll

3,000  
6 days 18 hours
 

Small Supreme Scroll

600  
18 hours
 

Medium Supreme Scroll

1,800  
2 days 18 hours
 

Large Supreme Scroll

3,600  
6 days 18 hours
 

Small Westfold Scroll

700  
18 hours
 

Medium Westfold Scroll

2,100  
2 days 18 hours
 

Large Westfold Scroll

4,200  
6 days 18 hours
 

Small Eastemnet Scroll

800  
18 hours
 

Medium Eastemnet Scroll

2,400  
2 days 18 hours
 

Large Eastemnet Scroll

4,800  
6 days 18 hours
 

Small Westemnet Scroll

900  
18 hours
 

Medium Westemnet Scroll

2,700  
2 days 18 hours
 

Large Westemnet Scroll

5,400  
6 days 18 hours
Rewards
The Scholar's Guild rewards its fellow members with improved recipes from Expert to Eastemnet (T8); see the following vendors to claim them when you gain the required reputation level:
Gallery