Ox-clan Merchant Camp
Jump to navigation
Jump to search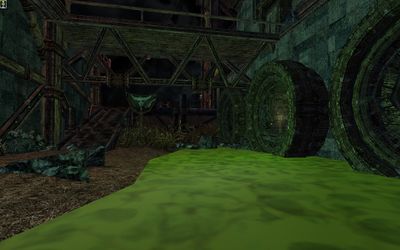 Location
The Ox-clan Merchant Camp is a settlement located high on the rim of the southern and eastern ridge of the Misty Mountains, but outside the walls of Isengard in Nan Curunír. [79.9S, 0.2E]
Access to the camp is through a pipe at the base of the mountains just south-west of the camp, in Nan Curunír. [80.3S, 0.0E]
Services
The following services can be found within the Ox-clan Merchant Camp:
Mailboxes
Travelling
Deeds
The following deeds can be obtained by visiting this place:
Quests
Starting:
Involving:
NPCs
List of NPCs that are found within this area:
Services
The following NPCs provide services.
Trainers
All trainers barter for unique, class restricted, armour sets.
The following are class trainers.
| Trainer | Position | Location | Armour Sets |
| --- | --- | --- | --- |
| Beorning Trainer (Nan Curunír) | Beorning Trainer | [80.0S, 0.3E] | Greater Armour of the Tower Guard |
| | | | Greater Armour of the Tower Smasher |
| | | | Greater Armour of the Echoing Roar |
| | | | Armour of the Tower Guard |
| | | | Armour of the Tower Smasher |
| | | | Armour of the Echoing Roar |
| Seirian | Burglar Trainer | [79.9S, 0.2E] | Armour of the Cabeddan |
| | | | Armour of the Dinhigil |
| | | | Armour of the Tasdan |
| | | | Armour of the Gambler |
| | | | Armour of the Quiet Knife |
| | | | The Mischief-maker's Armour |
| Derwent | Captain Trainer | [80.0S, 0.2E] | Armour of the Menestaid |
| | | | Armour of the Dagor |
| | | | Armour of the Tognir |
| | | | Armour of the Healing Hands |
| | | | Armour of the Charge |
| | | | The Leader's Armour |
| Elgan | Champion Trainer | [80.0S, 0.3E] | Armour of the Othrod |
| | | | Armour of the Delualagos |
| | | | Armour of the Ruithador |
| | | | Armour of the Martial Champion |
| | | | The Berserker's Armour |
| | | | Armour of the Deadly Storm |
| Cledwun | Guardian Trainer | [80.0S, 0.2E] | Armour of the Laingarth |
| | | | Armour of the Lúmaethwë |
| | | | Armour of the Laighathel |
| | | | The Free-defender's Armour |
| | | | Armour of the Keen Blade |
| | | | Armour of the Shadow-fighter |
| Tegan | Hunter Trainer | [80.0S, 0.2E] | Armour of the Faron |
| | | | Armour of the Cúdur |
| | | | Armour of the Gonathradir |
| | | | The Huntsman's Armour |
| | | | The Bowmaster's Armour |
| | | | Armour of the Trapper |
| Angwun | Lore-master Trainer | [79.9S, 0.2E] | Armour of the Lavanhebron |
| | | | Armour of the Amaruith |
| | | | Armour of the Iordúr |
| | | | The Beast-keeper's Armour |
| | | | Armour of Nature's Fury |
| | | | The Ancient Master's Armour |
| Brecon | Minstrel Trainer | [79.9S, 0.2E] | Armour of Thelin |
| | | | Armour of the Hadollin |
| | | | Armour of the Glírberion |
| | | | Armour of Resolve |
| | | | The Warrior-skald's Armour |
| | | | The Song-protector's Armour |
| Goronwy | Rune-keeper Trainer | [79.9S, 0.2E] | Armour of the Eglerin |
| | | | Armour of Puignor |
| | | | Armour of Erebraw |
| | | | Armour of the Benediction |
| | | | Armour of Cleansing Fire |
| | | | Armour of Solitary Thunder |
| Fionn | Warden Trainer | [80.0S, 0.3E] | Armour of the Thamen |
| | | | Armour of the Aithlen |
| | | | Armour of the Porbad |
| | | | Armour of the Shield-way |
| | | | Armour of the Spear-way |
| | | | Armour of the Fist-way |
Lore
[insert lore here]