Isengard Depths
Jump to navigation
Jump to search
Isengard Depths is an area within Nan Curunír. It is located underneath the Isengard tower (known as Tower of Orthanc), during which time Saruman and his Uruks are preparing for war. There are many forges, anvils being used, random pieces of metal scraps, and machinery throughout this area giving it an industrialized feeling.
Note: The Isengard Depths are first accessed after completing the Epic storyline Quest:Chapter 18: The Captive. It can be revisited again later only by completing the same quest once more from the Dunland Reflecting Pool. This version of the Isengard Depths and the Ring of Isengard area is not directly accessible from either versions of exterior Nan Curunír.
Isengard Depths Locations
Locations found within the area of Isengard Depths are listed below.
See Category:Nan Curunír Settlements for more settlements nearby.
See Category:Nan Curunír Landmarks for more landmarks nearby.
Connected Locations
Isengard Depths Quests
Starting:
Involving:
Isengard Depths NPCs
The following NPCs are found wandering the area:
NPCs found at Fâsh's Command:
NPCs found at the Kitchens:
NPCs found at the Dungeons:
Isengard Depths Creatures
The following creatures are found within this area:
Old list of Mobs
Maps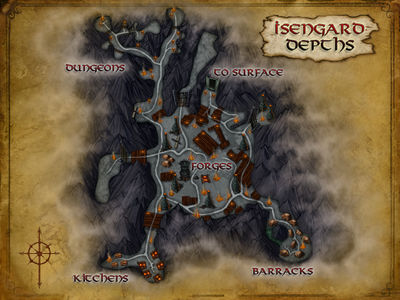 Isengard Depths Detailed Maps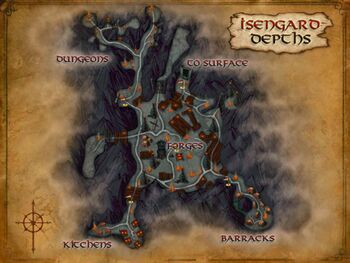 Gallery