Monster Play Traits
Jump to navigation
Jump to search
Monster Play
Creep Topics: Classes, Traits, Skills, Stats, Titles, Races, Ranks, Raiding, Troll Sessions
Freep Topics: Stats, Titles, Ranks, Raiding, Quests, Armour Sets, Ranger Sessions
Monster Play Traits are character enhancements that you can purchase with destiny points. Like the normal Characters there are four different types of traits which you can mix and match to individualize your monster and adapt to different types of combat.
Equipping Traits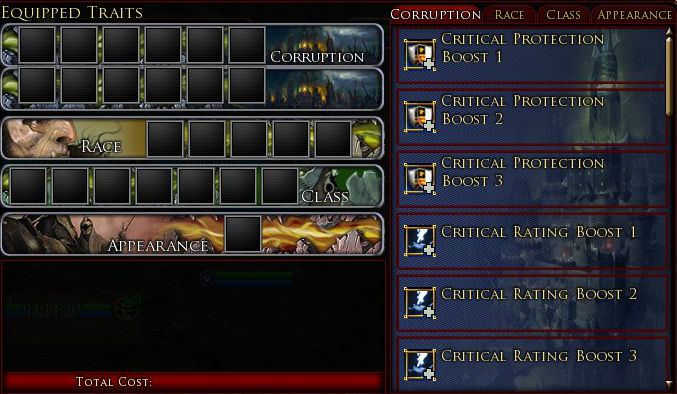 Currently: Nov 20, 2013 you get 6 Class, 12 Corruption, and 4 Racial traits equipped.
Trait Types
Corruption
Race
These Traits are specific to the race of your monster player.
There are 4 races/racial trait sets for Monster Players:
Class
These Traits are specific to the class of your monster player
Each of the 6 classes available has their own class traits so you will need to see Class Traits on each Monster Class page.
Appearance
Each of the 6 classes has number of different appearances available to them. To see all of them, you can view the Gallery on each of the class pages.