Láthbear Den
Jump to navigation
Jump to search
"I like this land. It reminds me of the twilit wilds, far away in the North, where my heart remains." - Calenglad
Location Stub
This article or section is marked for missing location information.
Please visit Create new location and help expand knowledge about this wondrous place.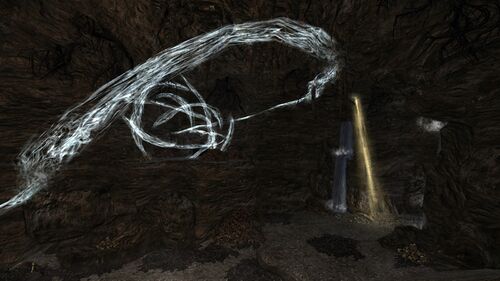 The Láthbear Den is cave in the Valley of the Láthbear which is located in the Norcrofts in East Rohan. [54.7S, 52.4W]
Lore
Láthbears are creatures of Rohirrim folklore, ordinary bears possessed by evil spirits. They are twice the size of a normal bear and sport sharp spikes and huge fangs. Until the War of the Ring, they were thought to be mythical by the people of Rohan, monsters designed to frighten children in the night. However, adventurers in Eastern Rohan have discovered the truth behind the legends. The Dark Lord has stirred the restless spirits of Rohan and made the láthbears a very real threat. Láthbears can be found in the Valley of the Láthbear in the Norcrofts. They are usually commanded by Láthbear Matrons, the largest variety of the creatures. The matrons are believed to live in the Den
Deeds
The following deeds can be advanced by visiting this location:
Quests
Creatures
The following creatures are found within this area:
See Template:Infobox Interiors for details on the template parameters and categorization.