Field of Onslaught
Jump to navigation
Jump to search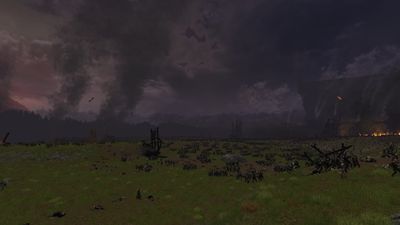 Location
The Field of Onslaught is an area of Old Anórien, representing the Battle of Pelennor Fields at dawn, when the Riders of Rohan arrive.
It is first accessed during Epic Volume IV. Book 5, Chapter 8: The Ride of the Rohirrim. After this, it can be returned to by using the horse labelled To the Field of Onslaught in front of the City Stables of Minas Tirith.[65.6S, 16.9W] A corresponding horse labelled To Minas Tirith, Before the Battle provides instant transportation back to Minas Tirith.[27.2N, 16.6W] Once the other phases of the battle are unlocked, each can be returned to from horses that appear next to this horse:
Each of those areas also has a horse that allows one to return to the Field of Onslaught.
There is a group of standard vendors and a Forge-master at the rear of the Rohirrim ranks.[27.4N, 16.5W] A Quartermaster (Pelennor Battle Rewards Vendor) stands a little farther ahead.[27.2N, 16.7W]
The groups of fighters cannot be interacted with, but many Orcs have broken free of the ranks and can be fought.
Field of Onslaught is the 1st stage of the Battle of Pelennor Fields and contains one World Instances found in the Instance Finder panel and two quest instances:
NPCs
See "list of NPCs" within the Field of Onslaught

Quests
Starting:
Involving:
Creatures
The following creatures are found within this area:
Creatures in Blood of the Black Serpent, see Category:Blood of the Black Serpent Mobs

Maps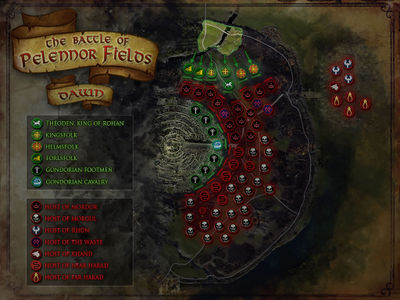 Lore
References
↑ J.R.R. Tolkien, The Lord of the Rings, The Return of the King, "The Battle of the Pelennor Fields"