Circle of Despair
Jump to navigation
Jump to search
This page is about the landmark in Minas Morgul. For the deed in Angmar, see The Circle of Despair.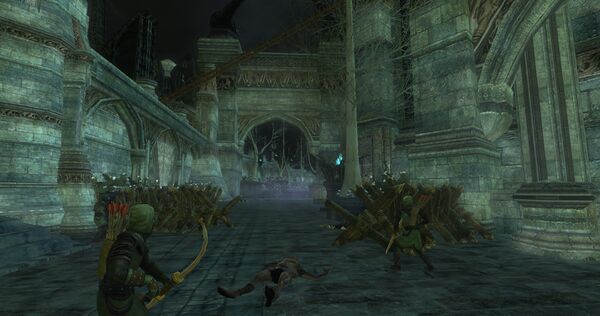 The Circle of Despair is a landmark within Minas Morgul, in Morgul Vale.
This is the fourth circle of the fortress of Minas Morgul.
Settlements
Landmarks
Interiors
Instances
Quests
Deeds
These deeds can be advanced by visiting the Circle of Despair.
NPCs
The following NPCs can be found within this landmark:
Creatures
These creatures are encountered on the Circle of Despair:
Lore
Once known as the Circle of Mirth in the days of Minas Ithil prior to the rise of Mordor.
Settlements and Landmarks of Minas Morgul

Settlements:
Barad Angarth, the Gate-wardens' Keep • Barad Orhant, the Tower of the Treegarth • Barad Elenath, the Star-gazers' Spire • Barad Arthir, the Lofty Watch-fort
Landmarks:
Circle of Wrath: • Zhar Dushgoi • Zhar Skator / Circle of Sorrow: • Song-house of Lindalírë / Circle of Madness: Ghashan-kútot, the Halls of Black Lore • Lírband / Circle of Despair: • The Garth of Angáth / Circle of Death: Celeband • Meremband • Thoremband • Uialrond, the Dome of Evening
Interiors:
Circle of Sorrow: • Búrzangh, the Shrouded Forge • Dâr Grazadh, the Hall of Rot • Roz Dagalur, the Fiend-house / Circle of Despair: • The Gloomwaters / Circle of Death: Barad Cúron, the Tower of the Crescent Moon • Bâr Maenath • The Wracking-hall
Instances:
Quest: • Barad Angarth • Barad Orhant • Barad Elenath • Barad Arthir / World: • Gath Daeroval • The Harrowing of Morgul
Settlements, Areas and Landmarks of the Morgul Vale

Areas:
Cirith Ungol • Minas Morgul • Rath Dúath • Thuringwath • Torech Ungol
Settlements:
Echad Taerdim • Echad Uial • Estolad Lân • Taen Orwath
Landmarks:
Annon Morgul • Aufaltor, the Fane of the Eye • Banám Lugaun • Bâr Maenath • Bâr Nírnaeth, the Houses of Lamentation • Barad Angarth, the Gate-wardens' Keep • Barad Arthir, the Lofty Watch-fort • Barad Cúron, the Tower of the Crescent Moon • Barad Elenath, the Star-gazers' Spire • Barad Orhant, the Tower of the Treegarth • Búrzangh, the Shrouded Forge • Cadar Skûs • Dâr Grazadh, the Hall of Rot • Dáru Lagúrz, the Broken Houses • Eithel Gwaur, the Filth-well • Falch Gurth • The Garth of Angáth • Gath Daeroval, the Shadow-roost • Ghashan-kútot, the Halls of Black Lore • The Gloomwaters • Gorthad Nûr, the Deep-barrow • Gúliant • Kaslokroz • Laugdursh, the Dire Span • Râkh Mathán • The Remmorchant • Roz Dagalur, the Fiend-house • Shakam Moz • Song-house of Lindalírë • The Straight Stair • Taurlingol • Torech Ungol • Torgris, the Hidden Cleft • Ufurok, the Dreadfast • Uialrond, the Dome of Evening • The Winding Stair • The Wracking-hall • Zhar Dushgoi • Zhar Skator
Interiors:
—
Instances:
Bâr Nírnaeth • Eithel Gwaur • The Fallen Kings • Gath Daeroval • Ghashan-kútot • Gorthad Nûr • The Harrowing of Morgul • Remmorchant