The Lord of the Rings Online: Helm's Deep
Jump to navigation
Jump to search
The Lord of the Rings Online:
Helm's Deep
Official logo for Helm's Deep
Helm's Deep
Released
November 20, 2013 (release notes)
Nickname
HD
Level cap
95
Region added
West Rohan
Production
First announced
April 24, 2013
Pre-order period
September 12 - November 17, 2013
Soundtrack
Helm's Deep - Official Soundtrack, by Chance Thomas
Developer
Turbine, Inc.
Expansion Chronology
WARNER BROS. INTERACTIVE ENTERTAINMENT AND TURBINE ANNOUNCE
THE LORD OF THE RINGS ONLINE™: HELM'S DEEP™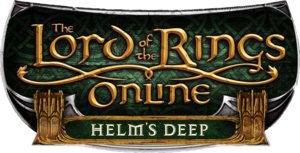 The Fifth Expansion to the Critically-Acclaimed MMO Launches in Fall 2013
NEEDHAM, MA – April 24, 2013
Warner Bros. Interactive Entertainment unveiled today The Lord of the Rings Online™: Helm's Deep™, the next expansion to the award-winning free-to-play massively multiplayer online roleplaying game (MMORPG) developed by Turbine. Helm's Deep will continue the Epic Story into the western plains of Rohan, allow players to take a direct role in the battle for Helm's Deep and advance the level cap to 95.

"With Helm's Deep, we're bringing the War of the Ring to players on a monumental scale," said Kate Paiz, Executive Producer of The Lord of the Rings Online, Turbine. "Our team is thrilled to create another iconic moment in Middle-earth, and put players in the center of the action."

THE LORD OF THE RINGS ONLINE: HELM'S DEEP FEATURES:
Experience the Battle for Helm's Deep – Fight to defend Helm's Deep starting at level 10, as your character enlists as a soldier in the Battle of the Hornburg, the most massive conflict yet in The Lord of the Rings Online. Earn rewards for your contribution to the war effort – win or lose, your aid makes a difference!
Explore new landscapes across Western Rohan - Explore the Westemnet of Rohan and rally each of the five Ridings as Rohan returns to glory. Traverse the capital of Edoras, mysterious Dunharrow, and the fortress of the Hornburg, deep within Helm's Deep.
Advance from levels 85 to 95 - Experience 10 new levels, from 85 to 95, with new skills and completely updated class specializations. Both mounted and un-mounted combat will challenge you as you war against the evil of Saruman.
Continue the Epic Story - Encounter beloved characters such as Aragorn, Éowyn, and Éomer. Restore King Théoden to his rightful lordship and defend the peoples of Rohan at Helm's Deep.
Launch Date 18 November 2013
This date was later pushed back to 20 November because of unexpected power outages.
Pre-purchase Announced 12 September 2013
Pre-purchase available between 12 September, 2013 and 17 November, 2013
Features
Fight for Rohan's Survival
Unearth the depth of Gríma Wormtongue's treachery, unravel a mystery weaved through the war-torn Westemnet, and defend the fortress at Helm's Deep.
Explore Western Rohan
Rohan's once-serene fields are fraught with gruesome evil among roaring fires that burn the pillaged lands. Heroes are needed to stand against fell deeds in these treacherous times.
Enlist in Epic Battles
War thunders across Middle-earth! You and your fellows must charge into Epic Battles of unmatched scale and scope to save the lands of the Free Peoples. Your choices have consequences that shape the nature of each battle, but also yield amazing rewards for the worthy.
Revitalize your Role
Choose your path to triumph and power with new class Trait Trees and roles that are more true to the legends of Middle-earth than ever before.
Which Edition is Right for You?
Base Edition
$39.99 (US,CA,AU); €35.99 +vat (Euro); £29.99 +vat(UK)
Premium Edition
$59.99 (US,CA,AU); €53.99 +vat(Euro); £44.99 +vat(UK)
Pre-purchase
Pre-Purchase Between 12 September, 2013 and 17 November, 2013
Note that during the pre-purchase period, there are three additional "deals" available:

Turbine points - 5,000 Points for $34.99
The Quad-pack - also $19.95 at store.lotro.com -- only $19.99
The Legendary Item Pack -- see below.
Legendary Upgrade Available!
Upgrade to the Legendary Item Pack and receive a free* ticket to THE HOBBIT: THE DESOLATION OF SMAUG! (* ticket available for redemption in US theaters only; Hollywood Movie Money® ticket is valid for up to $13.00 total at any participating theater in the U.S. Reward code and movie ticket will expire on 1/31/2014. Internet access and p r i n t e r required. Offer valid while supplies last.)
The Legendary Upgrade applies to all characters on your account and any new characters you add later. Items are bound to character.
Legendary Item Pack is only available during checkout.
Exclusive in-game Rohirrim title
Exclusive in-game Rohirrim title
Pre-order purchasers will receive a Turbine Point bonus.
Exclusive Rohirrim cosmetic chest piece
Exclusive full set of Rohirrim cosmetic armour
Maximum number of active quests increased by 10
Adds one additional legacy to your legendary weapon
Grants +25% Monster XP and Crafting XP
An exclusive Rohirrim Mount
A back-slot item with the appearance of a Rohirric pack and shield. Stats scale to your level. +25% XP gain on Monster Kills, Crafting, Quest Completions. +25% Legendary Item and Mounted Combat XP.
Exclusive Rohan Mount Bundle
Steed of the Hammerhand with matching War-steed appearance
The star light captured by this crystal bathes your Legendary Item increasing its power
Using this scroll on a Legendary Item will safely unslot Setting, Gem, and Rune relics currently slotted on the item, and place the relics back in you pool. Crafted relics will not be unslotted
How the Helm's Deep expansion is different from previous expansions
A list of what is included in the expansion that is not free for all players.
From Sapience on the official forums
Requires purchase of the Helm's Deep expansion pack
* Battle of Helm's Deep (Epic Battles).
* Epic Story.
* Western Rohan/Helm's Deep Content (Quests).
Does not require Expansion Pack Purchase
* Class Changes.
* Level Cap increase.
* Additional Crafting Tier.
Yes. Prior to this expansion the Epic Story line has been free.
The Epic Story in Helm's deep is very tightly entwined with the Epic Battle system. The story in Helm's Deep is the Epic battle we all know from the books. We've returned to the core story line from the lore and that line leads in a direct path, laid out by the Professor himself, into Helm's Deep and the battles and heroic deeds that occur there. As a result, this means the Epic story requires the purchase of the Helm's Deep expansion. Otherwise you'd not be able to complete it as it moves through the Epic Battle system

From MadeOfLions on the official forums
I'm glad you guys enjoy the Epic Story! We spend a lot of time and effort making it, and for me, getting to play in the Professor's sandbox with so many of his creations is an absolute joy. We had a few options available to us when the time came to figure out the contents of the Helm's Deep expansion, and we chose the one that honestly seems like it provides the best value for you guys. I was always a little saddened when players would make lists of 'What am I getting when I buy this expansion?' because they always end with something along the lines of 'And not the Epic... you get that anyway!' It does seem to diminish the value proposition of the expansion when you can experience its featured event or location without picking it up.
We're a Free-to-Play game now, so obviously that requires a change in approach. We gradually modified the way the Epic worked. People forget now, but when the transition to F2P happened the existing expansion packs didn't have free Epic Books - you had to pick up Mines of Moria in order to do its six Epic Books, and if you didn't have Mirkwood then Volume II Book 9 was also blocked away. As the level cap increased and we got further and further into the game (and further along in our story's timeline), we loosened restrictions on what you needed in order to experience those Epic Books. You could play them for free, and you could solo them (if you wanted - except for the Volume II Epilogue. That one's on me, guys. Sorry!)
But those were expansions that were already out at the time the F2P transition happened. In fact, when we were developing Rise of Isengard, I was still designing the Epic under the assumption that it would only be available for players who purchased the expansion. I mean, I was sending you into the ring of Isengard, and into the past to experience it when it was still pristine, and onto the roof of Orthanc, and into the dungeons underneath... basically, no expense was spared. But if you could see all these iconic aspects of Isengard without buying the expansion, well, what were you paying for?
I had a choice to make. We could make the Epic in such a way that it avoided all those iconic locations that are part of the 'expansion content,' and that way the Epic could remain separate from the expansion and stay free. Or we could keep it the way it is and charge for the Epic as part of the expansion, so you only get to play the Epic in Isengard if you bought the Isengard expansion. But there was a third choice, and it's the one we went with: I could refuse to change the Epic, keeping it in Isengard with all of the iconic things and happenings there, and we keep it free. It's certainly the biggest public relations win - I mean, who doesn't love free stuff? We were adored as heroes of the people, and life was good.
But there would come a time in the future when the decision wasn't so easy. What if there were a system looming on the horizon that would be the centerpiece of an expansion, such that everything was tied into it, and the Epic Story needed to interweave with it in such a way that we couldn't separate the two, but we also couldn't give you the entire system for free? Ah, I'm sure our Future Selves will handle it.
Well, here we are in the future, confronted with a system that allows you to experience the Battle of the Hornburg in all its rainy glory, and an Epic Story that would be doing you a disservice if it didn't tell the story of that battle. There are players who play the Epic even without buying the expansions, and I am sorry that this is a change for you guys. But it's a change that serves to reward the players that do pick up the expansion, and makes the expansion a better deal, more worth your time and your money. This is just an expansion change for now - I'm hoping we can keep the Epic Story free in other updates. But for big expansions I'd expect that it'll be featured as one of the Things You Get on the 'virtual box.'
This would all probably have shown up in a Dev Diary at some point, but as the Epic Story Guy I wanted you to know some of the process of what led to this decision. It's okay - I play a Guardian on the Live servers, I can handle any vitriol. But play nice for Sapience's sake. ;)
MoL
Helm's Deep Twitter Q&A
See https://twitter.com/lotro for the official version.
Answers regarding the LOTRO Helm's Deep expansion pack from LOTRO's official Twitter account:
1. Any chance of announcing Turbine Point costs for Helm's Deep when it launches?
The Helm's Deep™ expansion will cost 4295 Turbine Points.
2. Is pre-purchase available with Turbine Points?
No. It will only be available once Helm's Deep is live.
3. Does the cost include new instances that will come later on?
Epic Battles will ship with Helm's Deep.
Official Turbine Supplemental Information
Turbine provided a large amount of information about the Expansion - Helm's Deep - Update 12 (Since Free to Play) via "other media," (i.e. other than the Release Notes). In particular they include numerous "Dev Diaries," "Twitter chats" and several You-Tube videos.
This listing gathers together links to those documents published by Turbine about the Release of Helm's Deep.
* The Lord of the Rings Online: Helm's Deep - the Press Release
You Tube videos
Published on Sep 12, 2013
Experience the finale of Rohan's Epic Story and the beginning of all-out war in Middle-Earth.
Published on Oct 3, 2013
Take a look inside the art and design of Western Rohan
Published on Oct 17, 2013
Lead Systems Designer Matt Zimmitti and members of the LOTRO Team discuss class changes, Trait Trees, and the reasons for the changes coming when Helm's Deep releases on November 18th, 2013. (Please Note: Some icons shown in this video are placeholder only)

Beginning at level 6, Trait Trees offer a selection of powerful Specializations (Specs) that enhance your character.
You gain more Trait Points by leveling-up and completing Deeds, and higher levels unlock additional builds to switch between when outside combat.
Each class has unique Specs that embody a clear combat style, whether it's the Minstrel healing Spec or the Champion Morale tank Spec. As you allocate points you'll receive several bonuses, like enhanced passives, new powerful Skills, and significant Skill upgrades.
Twitter Dev Chats
One note, we'll be as open as possible with our answers, but please be aware that development priorities are prone to shifting. #LOTRO
Our answers reflect our current plans and expectations, but are subject to change. #LOTRO
Developer Diaries
Within the Battle for Helm's Deep UI, on the 'Road to Battle' and 'Battle History' tabs is a widget for tracking the progress towards earning rewards. As you complete quests and objectives you will earn medals based on how well you do.
One of the areas of gameplay we looked at was the interactives. How did you interact with them, how did that interaction change the space and the environment, what choices and decisions were presented to you, and how did multiple people interact together, with the same or different options?
As you play the Battle for Helm's Deep and earn medals completing objectives and quests you will earn points to spend within Promotions, the advancement system for Epic Battles.
How many soldiers survive the wall, how many banners were burnt down, how many injured Rohirrim survived a diversionary assault, how many rocks did you block the culvert with, were there any supplies left, did the horses survive, how many enemy traps or barricades did you disable, how many traps or barricades were your allies able to construct?
Aloha, and welcome to the Battle for Helm's Deep!
The second chapter of Rohan's story has finally come to LOTRO, and it's a big one!
Welcome to Quest Notes, the place to go for news and information about all things related to the Epic Story!
Hey all. Let's take some time to understand the class trait changes coming with Helm's Deep. The biggest question I get about the class changes is… Why? It's a pretty big question so I'll try to break down a few of the reasons here.
"Hail and well met my friends!" as the Rohirrim are wont to say. It's time for the Warden dev diary! For the upcoming expansion, the Warden is getting some snazzy new abilities, but we've also made a concerted effort to trim down the number of Gambits and skills you'll have to memorise and store on your hotbars. We want to present a more streamlined, engaging experience that still rewards mastering the Gambit system.
* LOTRO-Wiki class page for the Warden.
Greetings, fellow Runekeepers! Working on this class turned out being a tough nut to crack. The Rune-keeper was built to be a good healer and good damage dealer at the same time by swinging from one end to the attunement bar to the other. When we started, we felt it was very important that the swing remain intact. Being able to be a damage dealer and then swing to provide backup healing was our number one priority and so the trees were built in such a way to encourage this play, while making you great at one at the same time.
* LOTRO-Wiki class page for the Rune-keeper.
Greetings! Deviled_Egg here again to talk about changes to everyone's favourite singer-songwriter: The Minstrel.
* LOTRO-Wiki class page for the Minstrel.
Hey folks! I'm Deviled_Egg and I'm going to fill you in on some of the goodies the Lore-master will be receiving in the Helm's Deep expansion. The Lore-master will feature three distinct specializations, each one catering to a different play-style. The Keeper of Animals is the Lore-master's pet line. Specializing in this line will make your pets stronger and tougher to take down, as well as offer new interactions between you and your pets. The Master of Nature's Fury is the Lore-masters DPS Line. Traits in this line will give you the ability to wield Flame, Lightning, and Frost to great effect. Last, but certainly not least, is The Ancient Master. This specialization will give you a suite of debuffs and disables which can render your enemies' attacks useless, or make them more vulnerable to the attacks of you and your allies. The Ancient Master also has the ability to restore the Morale and Power of allies.
* LOTRO-Wiki class page for the Lore-master.
Hey Hunters! It's been an honor to work on this class for the revamp and am very excited with the changes we made overall...
* LOTRO-Wiki class page for the Hunter.
Hey all, Verizal here to talk to you about all the fun, new changes coming up with the Guardian. I was pretty pumped when I found out that I was going to have the opportunity to work on this class, given both my experiences in LOTRO, and my inclination towards heavier classes in other MMOs. For whatever reason, the idea of charging headlong into battle, covered in plate, and swinging a giant axe appeals to me much more than hanging out on the outskirts of the fight, plinking away at the enemy and hoping they don't look my way (sorry Hunters). It was with this sort of mentality that I tried to approach this rather sizeable revamp.
* LOTRO-Wiki class page for the Guardian.
When tapped to work on the Champion, it was important to me that the main functionality not change drastically, but instead work into the trees in a meaningful way. As it existed before the revamp, each line had a specific purpose, some more focused or successful than others, but each had a distinct goal and way of going about things. So when it came time to define each line, it just made sense from the start.
* LOTRO-Wiki class page for the Champion.
NEEDHAM, MA – September 12, 2013 -- Warner Bros. Interactive Entertainment announced today that The Lord of the Rings Online™: Helm's Deep™, the next expansion to the award-winning free-to-play massively multiplayer online roleplaying game (MMORPG) developed by Turbine, will launch on November 18th. Helm's Deep will continue the Epic Story into the western plains of Rohan, allow players to take an unprecedented role in the legendary battle for Helm's Deep while advancing to the new level cap of 95.
Hello all! RockX here, and it's time to talk Captain. Captain was definitely challenging, as I needed to keep in mind all four roles the Captain fills. As such, the main goal was to allow each of the three specializations to fully function in its chosen role while allowing the Captain to buff their allies appropriately. In addition, I wanted to make buffing offer more active and engaging gameplay, rewarding the Captain for using buffs at opportune moments.
* LOTRO-Wiki class page for the Captain.
Hello all! RockX here, and today I'm talking about the Burglar class revamp. I really enjoyed working on the class, as I felt each role could use a little something to really make them shine. Therefore, my main goal was to really home in on what made each of the three Burglar specializations unique and focus gameplay into each line's strengths. The Quiet Knife line focuses on dealing high burst damage using Stealth and positional skills. The Mischief-Maker line uses the application and removal of Tricks to control and whittle foes down through attrition. The Gambler manipulates chance with Gambles, ensuring an outcome in their favor. Each play-style should feel familiar to existing players, with new skills which offer potent additions to the chosen specialization.
* LOTRO-Wiki class page for the Burglar.
Changes implemented in Helm's Deep, but not in the Release Notes
Update 12 Crafting better explained
All intermediate component recipes are removed and replaced:
New Processing recipes have been added for lower level jeweler, metalsmith, tailor, weaponsmith and woodworker professions.
Components have been removed from metalsmith, tailor, weaponsmith and woodworker recipes (e.g. steel hilt, leather guard..).

New Obsolete Item Conversion recipes have been added.
Any components that players have in their inventory can be turned back into useable crafting materials via auto-granted recipes listed in the crafting panel under Obsolete Item Conversion.
Tier 1-6 leather and wood forester recipes
now have an advanced processing step, similar to that in Tiers 7-9. The names have also been changed to be more consistent with those in the later tiers.
Where did the Tin go?

Both Tier 1 and Tier 6 tin deposits and the recipes to make tin ingots have been removed.
 

Tin Ingot

s should now be available via the Supply vendor.
Any tin ore that is still in player inventories will be able to be converted into copper ingots via the multi-output option on the copper ingot recipes.
Tier 6 crafting resources have also had the following changes made:
There is now only one ore deposit found throughout the regions pertaining to this crafting tier: Khazâd Skarn Deposit
There is also only one wood and one hide:  

Log of Ilex Wood

and  

Magnificent Hide

.
Any Log of Mallorn Wood or Extraordinary Hide that players still have in their inventories have been renamed and will be able to be converted into useable planks/leather via multi-output options on the wood and leather recipes.
Name changes to crafting materials no longer used:
These items exist only in player inventories (i.e. Vaults and packs). They are no longer present in-game.
Odds and ends:
The scholar glass now has a decreased "researching" time similar to mining picks and forester axes.
New vocation craft tools and corresponding recipes will be replacing the single craft tools/recipes in the lower level crafting tiers.
All ingredient packs have been combined into one, the Universal Ingredient Pack, and are now paper items that go into your barter wallet.
New reputation tier has been added to Guild requiring 90k
The crit chance bonus on the Scroll of Ages has been lowered.
Craftguild reputation items have had their reputation amounts adjusted.
All reputation emblems have had their values decreased:
Small Expert = 300 points
Medium Expert = 900 points
Small Artisan = 400 points
Medium Artisan = 1,200 points
Small Master = 500 points
Medium Master = 1,500 points
Large Master = 3,000 points
Small Supreme = 600 points
Medium Supreme = 1,800 points
Large Supreme = 3,600 points
Small Westfold = 700 points
Medium Westfold = 2,100 points
Large Westfold = 4,200 points
Small Eastemnet = 800 points
Medium Eastemnet = 2,400 points
Large Eastemnet = 4,800 points
Small Westemnet = 900 points
Medium Westemnet = 2,700 points
Large Westemnet = 5,400 points