The Vineyards of Lórien
Jump to navigation
Jump to search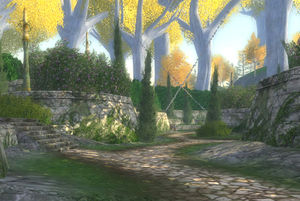 Location
The Vineyards of Lórien is a settlement located within the area of Egladil in Lothlórien. [18.5S, 64.0W]
These beautiful vineyards are located in the southeast corner of Lothlórien, just south of where the Anduin river meets the Celebrant.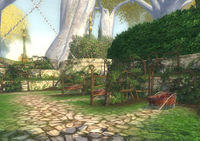 Services
The following services can be found within the settlement of The Vineyards of Lórien:
Mailboxes
Crafting
The Vineyards are a full service crafting area for even the most experienced crafters. Superior facilities for every profession can be found in or near the Vineyards, along with expert vendors to provide all the needed crafting supplies.
Travelling
Deeds
The following deeds can be obtained by visiting this place:
Quests
NPCs
Vendors
NPC
Function
Coords
Supplies & Provisions
Bachwen
Supplier

[18.5S, 63.8W]

Nestadwë
Healer

[18.6S, 63.8W]

Pathredil
Provisioner

[18.5S, 63.8W]

Maenasdir
Lothlórien Crafting Guild Emissary

[18.5S, 63.8W]

Crafting
Maenasdúr
Master of Apprentices

[18.5S, 63.8W]

Ruithad
Master of Crafting Guilds

[18.5S, 63.7W]

Aeswë
Expert Cook

[18.6S, 63.8W]

Galamann
Expert Farmhand

[18.8S, 64.0W]

Mírdi
Expert Jeweller

[18.5S, 63.8W]

Pethbes
Expert Scholar

[18.5S, 63.8W]

Condir
Expert Tailor

[18.5S, 63.7W]

Tincbrennil
Expert Metalsmith

[18.6S, 63.7W]

Langeredir
Expert Weaponcrafter

[18.6S, 63.8W]

Tawariel
Expert Woodworker

[18.5S, 63.8W]
Others
Lore
The Vineyards of Lórien produce sweet grapes and fine wine for the festivals of the Elves.