The Remmorchant
Jump to navigation
Jump to search
This page is about the landmark in Imlad Morgul. For the deed, see Remmorchant, the Net of Darkness. For for the 12-person instance, see Remmorchant.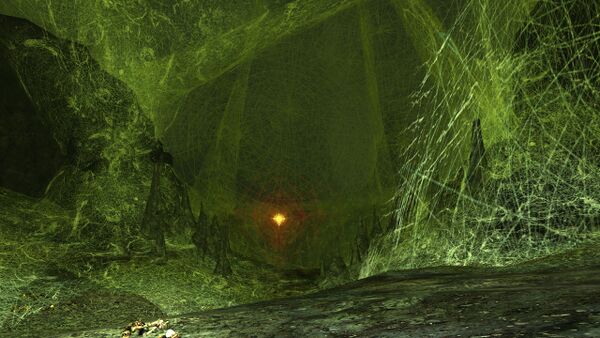 Remmorchant (Sindarin for Net of Darkness) is a landmark in the Morgul Vale, within Torech Ungol.
None have seen beyond the entrance to Remmorchant, the Net of Darkness, for that is the deepest and most subterranean of Ungwetári's tunnels, the pitted and sunless abyss into which she retreated after her unexpected injury at the hands of Samwise Gamgee and the point of Sting, the Gondolin-forged blade wielded by both Bilbo and Frodo Baggins, and later by the terrified but deadly gardener of Bag End.
Ungwetári knew nothing of those hobbits or the lineage that blade, but she remembers the pain of that encounter, and it has built in her a white-hot and blinding rage. In Remmorchant she broods upon her wound, and festers in her hatred.
It is into the Remmorchant that Celeborn of Lothlórien and his allies pursue Shelob after the end of the War of the Ring and the fall of Sauron.
Quests
Deeds
These deeds can be advanced by visiting Remmorchant.
Settlements, Areas and Landmarks of the Morgul Vale

Areas:
Cirith Ungol • Minas Morgul • Rath Dúath • Thuringwath • Torech Ungol
Settlements:
Echad Taerdim • Echad Uial • Estolad Lân • Taen Orwath
Landmarks:
Annon Morgul • Aufaltor, the Fane of the Eye • Banám Lugaun • Bâr Nírnaeth, the Houses of Lamentation • Cadar Skûs • Dáru Lagúrz, the Broken Houses • Eithel Gwaur, the Filth-well • Falch Gurth • The Garth of Angáth • Gath Daeroval, the Shadow-roost • Gorthad Nûr, the Deep-barrow • Gúliant • Kaslokroz • Laugdursh, the Dire Span • Râkh Mathán • The Remmorchant • Shakam Moz • Song-house of Lindalírë • The Straight Stair • Taurlingol • Torech Ungol • Torgris, the Hidden Cleft • Ufurok, the Dreadfast • The Winding Stair • Zhar Dushgoi • Zhar Skator
Interiors:
Barad Angarth, the Gate-wardens' Keep • Barad Arthir, the Lofty Watch-fort • Barad Elenath, the Star-gazers' Spire • Barad Orhant, the Tower of the Treegarth • Uialrond, the Dome of Evening
Dungeons:
Bâr Maenath • Búrzangh, the Shrouded Forge • Dâr Grazadh, the Hall of Rot • Ghashan-kútot, the Halls of Black Lore • The Gloomwaters • The Wracking-hall
Instances:
World Instances: Bâr Nírnaeth • Eithel Gwaur • Gath Daeroval • Ghashan-kútot • Gorthad Nûr • The Harrowing of Morgul • Remmorchant / Quest: The Altar of Despair • The Altar of Death • Barad Cúron, the Tower of the Crescent Moon • Roz Dagalur, the Fiend-house