Taurlingol
Jump to navigation
Jump to search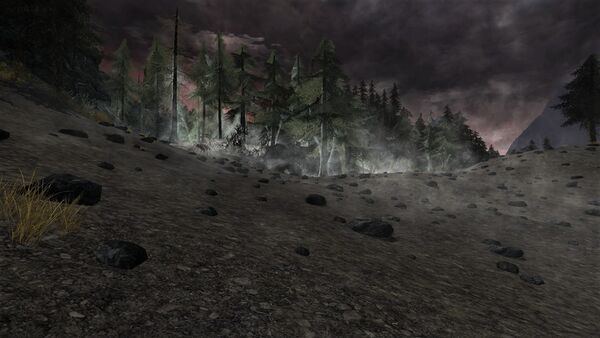 Taurlingol is a landmark within Cirith Ungol (Imlad Morgul), in the Morgul Vale. [60.5S, 2.8E]
The forest of Taurlingol has become spider-infested, a place of webs and unnatural voices. If the Ungoledain can understand the chittering of their idols, they are unwilling to share its meaning. This is probably a good thing.
The spiders of Mirkwood, summoned to Cirith Ungol by Ungwetári, have set up their own area separate from the rest of Shelob's summoned children in Taurlingol.
Quests
Deeds
These deeds can be advanced by visiting Taurlingol.
NPCs
Creatures
Settlements, Areas and Landmarks of the Morgul Vale

Areas:
Cirith Ungol • Minas Morgul • Rath Dúath • Thuringwath • Torech Ungol
Settlements:
Echad Taerdim • Echad Uial • Estolad Lân • Taen Orwath
Landmarks:
Annon Morgul • Aufaltor, the Fane of the Eye • Banám Lugaun • Bâr Maenath • Bâr Nírnaeth, the Houses of Lamentation • Barad Angarth, the Gate-wardens' Keep • Barad Arthir, the Lofty Watch-fort • Barad Cúron, the Tower of the Crescent Moon • Barad Elenath, the Star-gazers' Spire • Barad Orhant, the Tower of the Treegarth • Búrzangh, the Shrouded Forge • Cadar Skûs • Dâr Grazadh, the Hall of Rot • Dáru Lagúrz, the Broken Houses • Eithel Gwaur, the Filth-well • Falch Gurth • The Garth of Angáth • Gath Daeroval, the Shadow-roost • Ghashan-kútot, the Halls of Black Lore • The Gloomwaters • Gorthad Nûr, the Deep-barrow • Gúliant • Kaslokroz • Laugdursh, the Dire Span • Râkh Mathán • The Remmorchant • Roz Dagalur, the Fiend-house • Shakam Moz • Song-house of Lindalírë • The Straight Stair • Taurlingol • Torech Ungol • Torgris, the Hidden Cleft • Ufurok, the Dreadfast • Uialrond, the Dome of Evening • The Winding Stair • The Wracking-hall • Zhar Dushgoi • Zhar Skator
Interiors:
—
Instances:
Bâr Nírnaeth • Eithel Gwaur • The Fallen Kings • Gath Daeroval • Ghashan-kútot • Gorthad Nûr • The Harrowing of Morgul • Remmorchant