Bonevales
Jump to navigation
Jump to search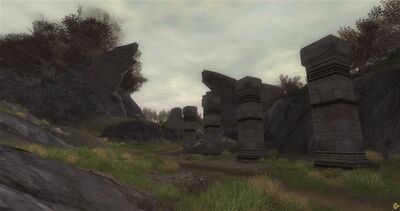 Description
The Bonevales [74.4S, 16.5W] is the first area in Dunland one encounters when following the Royal Road south from Enedwaith. If you are joining the Ranger Prestadír, you will meet him here with Bledhun [74.4S, 16.6W], before journeying further south to the Ranger camp at Echad Naeglanc.
After completing quests in the Bonevales, you can proceed to Trum Dreng and complete quests there or head to Galtrev and meet with Halbarad.
Services
Quest Involvement
See Dunland Quests - A list of all Dunland quests in play-through order.
NPCs
List of NPCs that are found within this area:
Maps