User talk:Gaerlin
Welcome to LotRO-Wiki!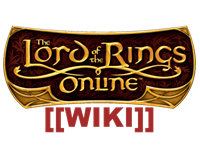 Hello, Gaerlin, and welcome to LotRO-Wiki, the Lord of the Rings Online Wiki!
Thank you for your contributions, and we heartily encourage you to continue contributing!
Some useful pointers:
We hope you enjoy editing here!
Take a moment to create a User page for yourself (click on "User Page" at the top left of this page).
Just a couple of lines to tell us about yourself and your interests. It's a good way to practice editing!

Please remember to sign your name on talk pages using four tildes (~~~~) as this will automatically produce your name and the date.

Verified template
It doesn't seem like the Verified template is working as intended. If you leave out the update parameter, it uses the currentupdate template - but that means that when the currentupdate is updated, all the verifications are dragged along with it when they shouldn't be. For example, A Warden's Cunning - Tier 1 says it was verified in October of last year, for the update that just released a month ago. We either need to remove that condition, or else make it substitute the current update rather than linking to the template.
(I know you didn't create the template yourself, but you're the one who's been making the most use of it so I thought I should bring this to your attention.) -- Elinnea (talk) 15:37, 6 July 2017 (UTC)
Scaled Items
Scaling Items
Template patching -- Template:Crafting
Since you seem at home with CSS and Templates...
I've looked and can't find the issue, but I am now 10+years away from such stuff (I retired in 2006), so "younger eyes" are needed! :)
Relic template
Legendary Legacies Index
Very nice :)
Thanks for the new format of the coordinates lists on the treasure cache deeds pages - sure a lot of work, but it pays off, makes it easier for readers. :) --Dathor (talk) 08:31, 22 August 2018 (UTC)