Ufurok, the Dreadfast
Jump to navigation
Jump to search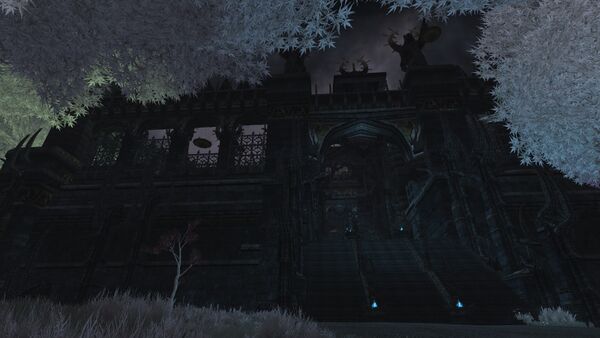 Ufurok is a landmark within Thuringwath, in the Morgul Vale. [71.6S, 7.7E]
It was to Ufurok, the Dreadfast, that the Witch-king of Angmar drew five of the mightiest Gaunt-men of the Elder Days. It was his will to empower them, crafting them into terrible, twisted reflections of the Wizards whose arrival in Middle-earth threatened the Dark Lord. The fell sorceries of the Witch-king unmade them and reshaped them into the Gaunt-lords. These were their names, and their number was five: Ivar the Blood-hand, Thadúr the Ravager, Ferndúr the Virulent, Drugoth the Death-monger, and Gortheron the Doom-caller.
Ufurok guards the Dire Span and the entrance to the Houses of Lamentation, its original purpose, and contains monuments to the Gaunt-lords attended by a number of lesser Gaunt-men. There are three main levels in the Dreadfast.
Quests
Deeds
These deeds can be advanced by visiting Ufurok.
Creatures
Settlements, Areas and Landmarks of the Morgul Vale

Areas:
Cirith Ungol • Minas Morgul • Rath Dúath • Thuringwath • Torech Ungol
Settlements:
Echad Taerdim • Echad Uial • Estolad Lân • Taen Orwath
Landmarks:
Annon Morgul • Aufaltor, the Fane of the Eye • Banám Lugaun • Bâr Maenath • Bâr Nírnaeth, the Houses of Lamentation • Barad Angarth, the Gate-wardens' Keep • Barad Arthir, the Lofty Watch-fort • Barad Cúron, the Tower of the Crescent Moon • Barad Elenath, the Star-gazers' Spire • Barad Orhant, the Tower of the Treegarth • Búrzangh, the Shrouded Forge • Cadar Skûs • Dâr Grazadh, the Hall of Rot • Dáru Lagúrz, the Broken Houses • Eithel Gwaur, the Filth-well • Falch Gurth • The Garth of Angáth • Gath Daeroval, the Shadow-roost • Ghashan-kútot, the Halls of Black Lore • The Gloomwaters • Gorthad Nûr, the Deep-barrow • Gúliant • Kaslokroz • Laugdursh, the Dire Span • Râkh Mathán • The Remmorchant • Roz Dagalur, the Fiend-house • Shakam Moz • Song-house of Lindalírë • The Straight Stair • Taurlingol • Torech Ungol • Torgris, the Hidden Cleft • Ufurok, the Dreadfast • Uialrond, the Dome of Evening • The Winding Stair • The Wracking-hall • Zhar Dushgoi • Zhar Skator
Interiors:
—
Instances:
Bâr Nírnaeth • Eithel Gwaur • The Fallen Kings • Gath Daeroval • Ghashan-kútot • Gorthad Nûr • The Harrowing of Morgul • Remmorchant