The Splintered Shield
Jump to navigation
Jump to search
This page is about the Splintered Shield before the Battle of Pelennor Fields. For the tavern at Midsummer, see The Splintered Shield (Midsummer).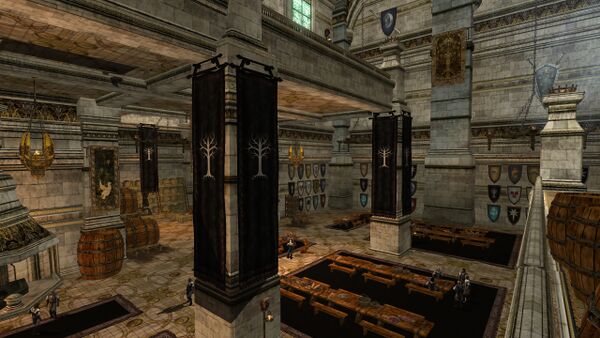 Description
The Splintered Shield in Minas Tirith is a landmark in Old Anórien. [67.4S, 18.8W]
This is one of the Taverns of Minas Tirith, run by the inhabitants of the Soldiers' Tier, the Second Circle of the White City. It is also known as Thand Thannan, an ale-hall that caters to soldiers.
The Splintered Shield also hosts a hidden room. Leaving the large common room, turn right at the first opportunity and take the short staircase to a storage room stacked with barrels, sacks, and bins. To the left of the room, behind a number of stacked barrels, a door leads down to an apparent fight club.
Deed Involvement
NPCs