Pelennor (After Battle)
Jump to navigation
Jump to search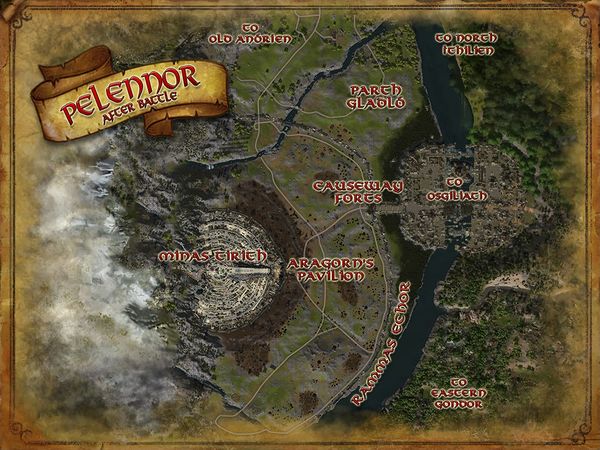 This page is related to the Pelennor (After Battle) areas. For during Battle areas see Battle of Pelennor Fields. For the Before Battle area see Pelennor. For the World Instances see The Battle of Pelennor Instances
Location
Pelennor (After Battle) is an area within the March of the King.
Aragorn's Pavilion now dominates the gloomy but victorious field of battle, though the day is won, greater challenges must be faced to the East. Towards Mordor.
Settlements
The following settlements are found within this area:
Landmarks
These landmarks are located within Pelennor (After Battle):
Deeds
The following deeds can be advanced by visiting this place: The following deeds are located under the March of the King tab of the Gondor page of the Deed Log.
IMPORTANT: The content of this page is no longer accurate. i.e. it is OUTDATED.
Please check and update this article if appropriate, then delete this tag.
Noticed by: WAC02mc (Contribs • User Talk • Email), 01:55:20, July 2, 2019
 ⇒ The Virtue system has been updated.
March of the King Deeds
Quests
Epic
Previous: Volume IV, Book 6
Vol. IV. Book 7: The March of the King
Next: Volume IV, Book 8