Dol Vaeg
Jump to navigation
Jump to search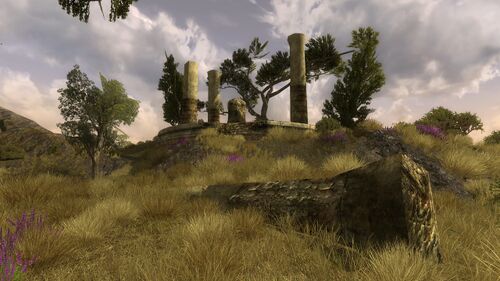 Location
Dol Vaeg is a landmark within Talath Gaun in the Lone-lands [32.7S, 26.1W]
These ruins are located on a hilltop north of the Great East Road and south-east of the Circle of Blood. Some members of the Eglain have set up camp here. Their mission is to cleanse the land from the recent flood of evilness and they welcome all help they can get.
Services
Quests
Starting
Involving
NPCs

Cwendreda - Travelling Vendor


Northrim
Mobs
The following creatures are found around Dol Vaeg:
Lore
Dol Vaeg is Sindarin for "Piercing Head" and was once a temple located high on a hill overlooking the rolling plains below. After it was abandoned by humans, it became roamed by servants of the Enemy - wargs and crebain. Recently, it has been reclaimed by two members of the Eglain who do the best they can to keep the area relatively safe.