Cadar Skûs
Jump to navigation
Jump to search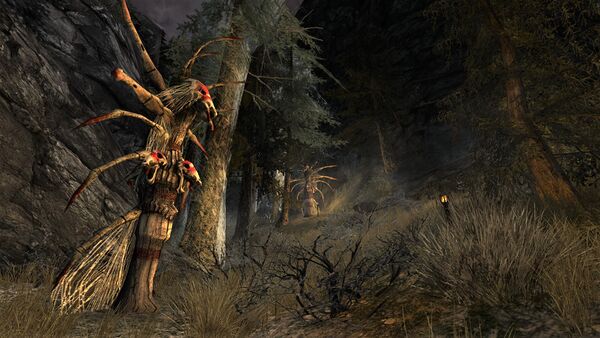 Cadar Skûs is a landmark within Cirith Ungol (Imlad Morgul), in the Morgul Vale. [59.4S, 1.3W]
The Ungoledain have come a long way overland across Middle-earth, following a call only they can hear, and they have established the resting-place of Cadar Skûs in the mountains. Is their long journey finally near its end?
Cadar Skûs is an Ungoledain village near Torech Ungol, established as the spider-men follow the call of Mam Murgwid- Ungwetári, or Shelob.
Quests
Deeds
These deeds can be advanced by visiting Cadar Skûs.
Creatures
Settlements, Areas and Landmarks of the Morgul Vale

Areas:
Cirith Ungol • Minas Morgul • Rath Dúath • Thuringwath • Torech Ungol
Settlements:
Echad Taerdim • Echad Uial • Estolad Lân • Taen Orwath
Landmarks:
Annon Morgul • Aufaltor, the Fane of the Eye • Banám Lugaun • Bâr Maenath • Bâr Nírnaeth, the Houses of Lamentation • Barad Angarth, the Gate-wardens' Keep • Barad Arthir, the Lofty Watch-fort • Barad Cúron, the Tower of the Crescent Moon • Barad Elenath, the Star-gazers' Spire • Barad Orhant, the Tower of the Treegarth • Búrzangh, the Shrouded Forge • Cadar Skûs • Dâr Grazadh, the Hall of Rot • Dáru Lagúrz, the Broken Houses • Eithel Gwaur, the Filth-well • Falch Gurth • The Garth of Angáth • Gath Daeroval, the Shadow-roost • Ghashan-kútot, the Halls of Black Lore • The Gloomwaters • Gorthad Nûr, the Deep-barrow • Gúliant • Kaslokroz • Laugdursh, the Dire Span • Râkh Mathán • The Remmorchant • Roz Dagalur, the Fiend-house • Shakam Moz • Song-house of Lindalírë • The Straight Stair • Taurlingol • Torech Ungol • Torgris, the Hidden Cleft • Ufurok, the Dreadfast • Uialrond, the Dome of Evening • The Winding Stair • The Wracking-hall • Zhar Dushgoi • Zhar Skator
Interiors:
—
Instances:
Bâr Nírnaeth • Eithel Gwaur • The Fallen Kings • Gath Daeroval • Ghashan-kútot • Gorthad Nûr • The Harrowing of Morgul • Remmorchant