The Mischief-maker
Jump to navigation
Jump to search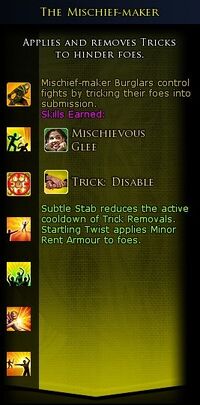 The Mischief-maker (Yellow line) is a Burglar Trait Tree. The other two trait trees of this class are The Gambler and the Quiet Knife.
The Mischief-maker
Applies and removes Tricks to hinder foes.
Mischief-maker Burglars control fights by tricking their foes into submission.
Skills Earned:
Subtle Stab

reduces the active cooldown of Trick Removals.
These skills are acquired by spending trait points in the Mischief-maker (yellow) trait tree. You can only obtain the Set skills if you specialize in this tree.