Fellowship Manoeuvre
Jump to navigation
Jump to search

For information on Monster Player Warband Maneuvers, please visit Warband Maneuvers.

A Fellowship Manoeuvre (FM) (formerly named Conjunction) is a Fellowship-based group attack that can be very powerful if coordinated well. Different ordered contribution combinations will result in different Fellowship Manoeuvres. You can find more information about your available contribution skills and the Fellowship Manoeuvres you have been a part of in the Fellowship tab in the Skills panel.
Fellowship Manoeuvres occur randomly and require that the target be stunned or knocked down, in any group encounter with a signature or higher enemy (You'll get the message "X has broken the defences of Y"). Burglars and Guardians also have special skills that initiate FMs. When the FM is started, each player within the area will get a colour wheel on their screen to choose one of four skill contributions. Note that only players at level 12 or above will be able to participate in a Fellowship Manoeuvre.

If you have targeted the wrong target, when a Fellowship Manoeuvre starts, you'll get the assist button instead of the wheel. Pressing the assist button will give you the correct target and bring up the FM wheel. Note that when you have the right target selected (orange wheel at its feet) but are not attacking it (red wheel at its feet), this will result in an error and you will not be able to participate in the FM.
Manoeuvre types
| Colour | Name | Effect |
| --- | --- | --- |
| | Ent's Strength | Deals direct damage of the same type as the weapon wielded. As it increases in power, it does more damage and at 6th level of power it becomes an Area of Effect (AoE) attack with a range of 10 meters. |
| | Stallion's Spirit | Restores power. From 2nd level of power it becomes a fellowship only AoE power heal. At 5th level of power it will summon a Noble Spirit and at 6th level of power it will summon a Greater Noble Spirit to aid you in battle. |
| | Spider's Guile | Deals direct common damage + a periodic damage. At the 5th and 6th level of power, it also applies a 15 second countdown effect that will damage the target's power and slow it down after the countdown is completed. |
| | Eagle's Cry | Restores morale. From the 2nd level of power, it becomes a fellowship only AoE overtime morale heal. At the 5th level of power it also cures fear and at 6th level of power it cures fear and wounds. |
In general, blue and green colours can be used from a distance, while red and yellow require you to be in melee range. However, there are exceptions for some classes, for example, Hunters and Rune-keepers can use red and yellow as ranged. If your red or yellow icons do not look like the ones in the Fellowship Manoeuvre wheel above, but have an arrow through them instead, you can use those colours ranged.
Certain combinations of individual players' manoeuvres (colors) such as pairs, flushes, or straights will increase the manoeuvre' strength (level). The damage dealt by red and yellow manoeuvres remains associated with the player who selected those colours, and can be tracked in their individual combat logs. Successful combos simply strengthen the individual players' manoeuvres' strength. On the other hand, green and blue manoeuvres gain an AoE effect practically in all combos, and therefore benefit every member of the fellowship. The more people participate in a named manoeuvre combination, the higher the potential level of each individual manoeuvre. For a list of known fellowship manoeuvre combos, see Combinations section below.
Selecting the manoeuvre is like any other combat action of your character. This means that you must face the target in order to be able to select your colour. Moreover, selecting a manoeuvre does not interrupt skill induction (casting) timers, but instead your colour will not get into the manoeuvre queue until your current skill is completed.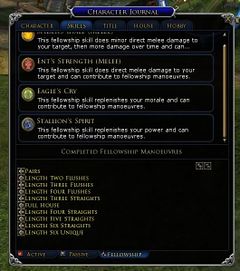 Once you select your manoeuvre (color), your contribution will appear in the first empty slot in the manoeuvre queue. Your character will freeze in a manoeuvre stance, and a colour indicator icon will appear above your head. Your character will stop its auto-attacks, and will not be able to use any skills until the manoeuvre is completed. If you try to move your character, your manoeuvre will be cancelled; you will still be able to participate in the combo if there is any time left, but any colour you now select will be added to the next empty slot in the queue (at its end), not to your original position.
Depending on the order of the colours that result from fellowship members selections after the short timer has expired, various effects can be produced ranging from massive burst damage, huge bleeding damage over time, full group Power Regeneration, life-saving group morale regeneration over time, or a combination of all four.
Every time you use a manoeuvre that you never executed before with a team, it will be put in a list. This list can be accessed by going to your Skills panel, and to the tab Fellowship. It should look something like the picture at the left.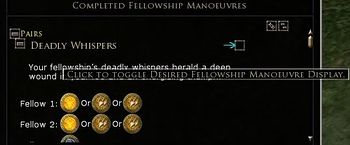 If you are a fellowship or raid leader, you can set a manoeuvre for the entire group / raid. This means that whenever a manoeuvre pops up in one of the groups of the raid, that, and only that group will see the ability to execute a Fellowship Manoeuvre, the rest will not see anything. You can do this by expanding one of the groups, and than ticking the desired manoeuvre (see right). The selected manoeuvre will show up every time your group gets a chance to execute a Fellowship Manoeuvre. This makes it easier for people to chose the right colour for executing successfully a difficult manoeuvre like Whispers Under the Mountain.
Fellowship Manoeuvre Immunity

Most Fellowship Manoeuvre-starting abilities knock your target down. This will give the target the Temporary State Immunity-buff (lasting for 10 seconds), which usually means you can't open another FM until it wears off. Moreover, attempts to start a FM using the burglar skills will also fail if the target has a stun immunity for any other reason (for example, if it just broke from lore-master's blinding flash).
After every Fellowship Manoeuvre attempt, whether it leads to a named combo or not, the target will also receive a one minute temporary immunity buff from coordinated attacks, indicated by the shield icon. A new FM can not be started on the target until this immunity wears off.

Some creatures are always immune to Fellowship Manoeuvre attempts.
Skills that Start Fellowship Manoeuvres
| | Ability | Class | Source | Chance to trigger | Description | Cooldown |
| --- | --- | --- | --- | --- | --- | --- |
| | Exploit Opening | Burglar | lvl 12 | 100% | Also stuns the target. | 2 minutes |
| | Trip | Burglar | Trip | 100% | Also knocks the target down (only usable from Stealth or Improved Feint Attack). | 2 minutes |
| | Exposed Throat | Burglar | Exposed Throat | 20% | Third skill in the critical response chain. | 5 seconds |
| | Turn the Tables | Guardian | lvl 20 | 100% | Knocks the target down in response to the guardian being dazed, stunned or knocked down. | 1 minutes |
| | Fray the Edge | Guardian | lvl 24 | Up to +30% chance for random CJs | A threatening shout that improves the chance for a random Fellowship Manoeuvre. This effect can be tiered up (by yourself or other Guardians) to a maximum of 15% extra chance (30% if Final Straw is equipped) to trigger a random FM. | 10 seconds |
| | To The King | Guardian | To The King | On crit | Third skill in the parry response chain, only starts a Fellowship Manoeuvre on a critical hit. | 5 seconds (and parry chain required) |
| | Tripwire | Hunter | Tripwire | % | Also knocks the target down. Trap remains for 1 minute after being placed. | 30 seconds |
| | Bursting Root | Lore-master / Bog-guardian | lvl 20 | 20% | The Bog-guardian has a skill that has a 20% chance of initiating a Fellowship Manoeuvre, no flanking is required. | 1 minute |
| | Throat Slash | Lore-master / Sabretooth | lvl 56 | 20% with conditions | The Sabretooth Cat has a 20% chance to initiate a Fellowship Manoeuvre on a target that is currently flanked, by using a certain skill. This skill hits 3 targets, so if 3 targets are flanked, it can in fact initiate the FM on all 3 of them. | 1 minute |
Marbles
A Burglar can use marbles to initiate a Fellowship Manoeuvre.
Combinations
The following are the different Fellowship Manoeuvre combinations that can be used to increase the strength (level) of individual manoeuvres. To be executed correctly, the FM must use the specified colours in the specific order they are listed, with the exception of straights, which may be executed either clockwise or counterclockwise around the FM wheel. The first colour in a straight determines which FM will trigger.
Length Two Flushes
Length Three Flushes
Length Three Straights
Length Four Flushes
Length Four Straights
Pairs
Length Five Straights
Full House
Length Six Straights
Length Six Unique
Types of Fellowship Manoeuvres
There are several types of Fellowship Manoeuvres, ranging from very simple to relatively complex: Flushes, Straights, Two Pair, Full House, and Uniques. The power of a FM is related to both the number of contributing members and the complexity of the pattern. Additionally, an individual participant in a fellowship manoeuvre may experience different effects than his/her fellows depending on what colour he/she contributes:
Red is associated with doing direct damage to the target by the player who selected it.
Yellow is associated with doing damage over time to the target by the player who selected it.
Blue is associated with a recovery of power, both to player who selected it, and to entire fellowship in most combos.
Green is associated with a recovery of morale to player who selected it, and heal over time to entire fellowship in most combos.
For more details on each colour, see Manoeuvre Types
Flush
The simplest and second most common Fellowship Manoeuvres are Flushes. All fellowship members must select the same colour. Flushes are available in 2-, 3- and 4-person manoeuvres. When no specific manoeuvre has been declared, it is generally wise to attempt a flush; most players will catch on and do the same. A flush is successful regardless of the total number of party members, meaning that a group of 5 or 6 people are still able to execute 2-, 3-, or 4-person flushes. A 2-fellow flush is only successful if it occupies slots 1 and 2, 3 and 4, or 5 and 6; The sequences RRGR or RGRR will successfully trigger Clash of Arms (RR), but the sequence GRRG will not.
Straight
The most common Fellowship Manoeuvres are Straights. A straight is any sequence that follows the order of the colours as they appear around the wheel. Straights are available as 3-, 4-, 5- and 6-person manoeuvres. Straights in five and six man fellowships are extremely challenging, because they must be entered in the correct order in a short amount of time. However, they are also among the most powerful. A straight is successful regardless of the total number of party members. This is very useful, because even an uncompleted attempt at a straight will generally trigger a lesser straight.
All straights can be performed around the wheel in either a clockwise or counterclockwise direction. Depending on the length of the straight, either the first colour chosen or the quantity of colours in the overall sequence will determine which skill triggers and which effects will be strongest.
In a 3-person straight, the combination of colours used determines which skill will trigger. A 3-person straight can be performed exactly in reverse: RGY has the same effect as YGR.
In a 4-person straight, the first colour determines which skill will trigger (and the strongest effect): RGYB has the same effect as RBYG.
In a 5-person straight, the first colour, which is repeated as the last colour, determines which skill will trigger (and the strongest effect): RGYBR has the same effect as RBYGR.
In a 6-person straight, the first two colours, which are repeated as the last two colours, determine which skill will trigger (and the two strongest effects). These may be performed exactly in reverse: RGYBRG has the same effect as GRBYGR.
In general, the first two colours in a straight should correspond to the effects that are most strongly desired, and will always include one form of damage and one form of recovery. If a party desperately needs morale and prefers instant damage, for example, the straight should be started as "GR," which can lead to GRB (moderate heal), GRBY (strong heal), GRBYG (very strong heal), or GRBYGR (very strong heal and very strong instant damage). Alternatively, if DoT (Y) is needed most, and extra power (B) is desired over morale, starting with YB can lead to YBR (moderate DoT), YBRG (strong DoT), YBRGY (very strong DoT), or YBRGYB (very strong DoT, very strong power regen).
Two Pairs
Two Pair is when your fellowship selects two matching colours, followed by another pair of a different colour. Reversing the order of the pairs produces the same result. So the YYBB Fellowship Manoeuvre, Deadly Whispers, can also be done as BBYY. Any pairing of colours will result in a successful manoeuvre. Executing a Two Pair is only possible with exactly 4 people. A successful Two Pair is almost as powerful as two 4-fellow Flushes combined!
Full House
All five-person manoeuvres are either straights or a Full House. A full house consists of three of one colour and a pair of another colour. The colours used must be either R&Y or G&B. That is, a Full House is either entirely devoted to damage (eg RRRYY), or entirely devoted to recovery (eg BBBGG). Either the triple or the pair may come first, so RRRYY can also be entered as YYRRR. A Full House is possible with 5 or 6 players.
Uniques
Uniques only exist for full fellowships (six members), and must be entered exactly as written. Three unique Fellowship Manoeuvres follow the pattern RRRRR-X, where X can be either Y, B, or G depending on the desired effect. These three FMs are often referred to as "Flush + 1" or "Chain + Kicker." Two unique FMs follow the pattern G-X-X-X-X-B, where X can be either all Y's or all R's (but not a combination of the two). A particularly unique FM, RRRYYY, is often thought of as an "Extended" Full House (RRRYY+Y), but *must* be entered in that order (YYYRR+R only triggers a regular Full House).
The other two known unique Fellowship Manoeuvres are symmetrical: BRYYRB, GYRRYG. It is worth noting that both of these FMs sandwich damage between a type of recovery, and that neither FM contains a straight. These moves do follow a specific pattern, however, which can be helpful to remember: When performing BRYYRB, start on B, make one full turn clockwise (skipping G), and then return counterclockwise (skipping G again). When performing GYRRYG, the pattern is the same, but starts on a different colour: start on G, make one full turn clockwise (skipping B), then return counterclockwise (skipping B again).
Fundamental Tips for Success
Fellowship Manoeuvres, when used successfully and intelligently, make an enormous difference in combat. This is particularly true in full parties of six. Unfortunately, organizing a party of six can be difficult, particularly when members are "pick-ups" who are not experienced with working together. In order to have the highest rate of success possible for Fellowship Maneuvers, there are several tips and concepts to keep in mind:
The "Kicker" Chains
When adventuring with a full fellowship (6 people), the following combinations are among the easiest to execute with all six party members, and therefore the most popular, particularly in lower-level instances. They are very simple to coordinate, and will still grant damaging flushes (RR, RRR, RRRR) in the event that not all fellowship members are able to contribute in time.
Before battle, determine who will have the role of entering the last colour in the sequence, which is commonly referred to as the "kicker." Generally, the best candidate for the kicker-picker is the Minstrel, if one is present, due to a combination of factors:
The Minstrel generally knows what the party needs (damage, power, or morale)
Summoning an Oathbreaker can cause pets to bug (Captain and Loremaster); Minstrels do not have pets, and therefore can contribute B for Hew the Stone without worry
Minstrels are unable to contribute Red or Yellow unless they are within melee range, but can contribute Blue or Green from a safe distance.
Putting the Minstrel at the end of the sequence gives the player extra time to finish casting before locking in a FM contribution.
Common Do's and Don'ts of Fellowship Maneuvers
When trying to successfully execute Fellowship Manoeuvres, there are basic guidelines that, when followed, can greatly improve the rate of success.
Stay close! Unless you are a ranged attacker (Hunter, Loremaster, Minstrel or Runekeeper), do not stray from the center of battle. Burglars, Captains, Champions, Guardians and Wardens must be within melee range of the target to contribute Red or Yellow to a Fellowship Manoeuvre. This is especially important to remember if the fellowship is attempting any of the RRRRR-kicker FMs.
Be mindful of stuns! Fellowship Manoeuvres require that the target be stunned or knocked down. If a monster has recently been stunned or knocked down, it will be granted temporary "Stun Immunity," during which time it cannot be stunned or knocked down again. For this reason, skills that stun the opponent (or otherwise trigger Stun Immunity) should not be used on the fellowship's primary target(s), for a poorly-timed stun will cause any Fellowship Manoeuvre attempts to fail.
Finish or cancel your current action immediately. Your contribution to the Fellowship Manoeuvre must be queued up just like any other skill; you cannot make a contribution while you are performing another move. In the case of skills with long induction times, it is sometimes necessary to cancel the move (default key is Esc) so that a contribution can be made to the Fellowship Manoeuvre immediately. This is especially important to remember if you have been assigned an early position in the sequence.
Do consider using hotkeys. Every second counts when attempting a Fellowship Manoeuvre, so consider binding a key to the assist button (eg Caps Lock). Also, the colours of the wheel can be bound to keys, such as the arrow keys. Another recommendation is to use your keypad to match the colour wheel by assigning 8 (red), 6 (green), 2 (yellow), 4 (blue), and 5 (fellowship assist).
Watch and listen carefully. Over the course of a battle, group leaders will often call out specific Fellowship Manoeuvres either by voice or in chat. Missing out on this information can be detrimental to the entire group, so be vigilant!
External links