South-gate
Jump to navigation
Jump to search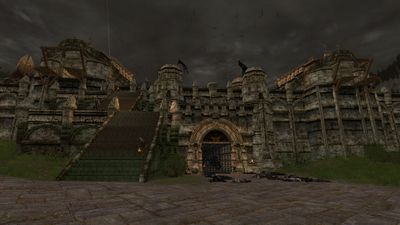 Location
The South-gate of the Rammas Echor, the wall surrounding the Pelennor Fields in Old Anórien. [72.0S, 19.4W]
It represents the sourthern entrance to the Pelennor through the Rammas Echor. The Royal Road passes through it. It ajoins the port of Harlond to the south.
Quests
Involving:
The Smiths' Fellowship quest giver Narnaith in Minas Tirith

[65.7S, 16.9W]

offers you a wrapper quest that sends you to Turgon at South-gate.

[72.0S, 19.4W]

. Speaking to Turgon allow access to the South-gate Harlond Public Instance. Be sure to pick up all the associated quests before you leave. You must be Friends with Defenders of Minas Tirith.
South-gate Repeatable Daily (require Friend status with Defenders of Minas Tirith):
[100] Assisting the Smiths' Fellowship - from Minas Tirith to South-gate
Be sure to go back to Narnaith after you are finished, because the repeat timer does not start until after you've spoken with him.
NPCs