North-gate
Jump to navigation
Jump to search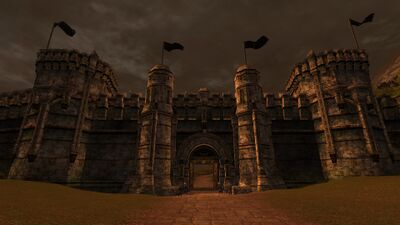 Location
The North-gate is on the border between the Pelennor and Talath Anor in Old Anórien.

[59.4S, 17.6W]

It represents the northern entrance in the Rammas Echor.
Travelling
North Gate Stable-master destinations
Quests
Involving: The Builders' Fellowship quest giver Londir [65.7S, 16.9W] offers you a wrapper quest that sends you to North-gate Ingold [59.6S, 16.6W]. Speaking to Ingold allow access to the North-gate Rammas Echor Public Instance. Be sure to pick up all the associated quests before you leave.
North-gate Repeatable Daily (require Friend status with Defenders of Minas Tirith):
[100] Assisting the Builders' Fellowship - from Minas Tirith to North-gate
Be sure to go back to Ingold after you are finished, because the repeat timer does not start until after you've spoken with him.
NPCs
Ingold. Captain of the Out-wall
Deeds
The following deeds can be advanced by visiting this location: