Leader of Men
Jump to navigation
Jump to search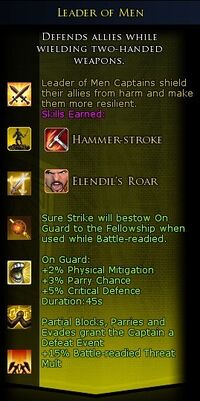 Leader of Men (Yellow line) is a Captain Trait Tree. The other two trait trees of this class are Hands of Healing and Lead the Charge.
Leader of Men
Defends allies while wielding two-handed weapons.
Leader of Men Captains shield their allies from harm and make them more resilient.
Skills Earned:
Sure Strike

has a chance to bestow On Guard to the Fellowship when used while

Battle-readied

.
On Guard:

+5% Damage Reduction
-10% Power Costs
Parry Rating
Duration: 30s
Partial Blocks, Parries and Evades grant the Captain a

Defeat Event
These skills are acquired by spending trait points in the Leader of Men (yellow) trait tree. You can only obtain the Set skills if you specialize in this tree.