Lûghash, the Flaming Spire
Jump to navigation
Jump to search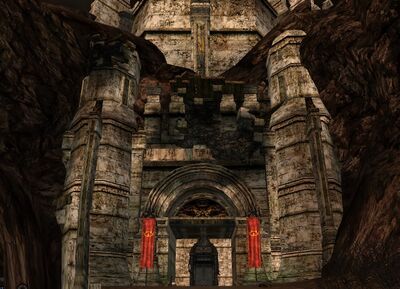 Location
Lûghash, the Flaming Spire is located within the area of Dor Amarth in the Plateau of Gorgoroth. [42.8S, 15.8E] After completion of the quest A House Forged Anew, Lûghash becomes known as the Oath-taker's Horn.
There are two entrances to Lûghash:
Services
The following services can be found within the settlement of Lûghash before it becomes the Oath-taker's Horn:
Travelling
A Hunter's Camp Site Fire is on the upper terrace.
NPCs
Quests
Creatures
These creatures are encountered around Lûghash:
After Lûghash is renamed the Oath-taker's Horn, most of the dwarves inside become hostile:
Gallery