Epic Battle: The Deeping Wall
Jump to navigation
Jump to search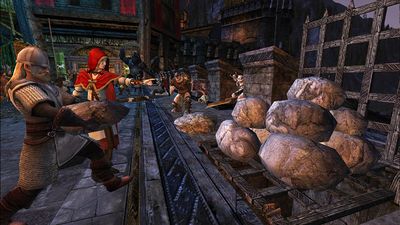 Introduced in Update 12: Helm's Deep, The Deeping Wall is an Epic Battle for characters Level 10 and higher. It can be run Solo/Duo or in a Raid after Helm's Dike has been completed.
Description
The Deeping Wall is a twenty foot high stone wall across the mouth of the Deeping-coomb which protected Helm's Deep. The wall was 200 feet long and a quarter mile from Helm's Dike, with the Hornburg at the northern end. The wall was only ever breached once, during the Battle of the Hornburg, when Saruman's Orcs planted a black powder explosive in culvert at the base of the wall through which the Deeping-stream flowed.[1][2][3][4]
Quests
All quests, including the main objective, can only be completed once per day.
Solo/Duo
Raid
Walkthrough & Notes
Walkthrough
Basic Strategy (Solo/Duo)
The battle will begin the moment you enter, meaning the enemy will begin their march towards the Deeping Wall. Fortunately, the battlefield is relatively compact and easy to maneuver around. To prepare yourself, load the three Rock Drops and ready the Medium Catapult. Waves will include Berserkers and Archers who will attack the Soldiers, Commanders who will attack allied Commanders, and Sappers who will attack the banners. While defending the wall, aim primarily for the Sappers, as the Soldiers will likely be occupied with the other enemies. If any banners get damaged, you can repair them while fighting off incoming foes. Alternatively, you can kick down ladders and cut grappling hooks to limit the amount of enemies at one time, however, these will eventually get replaced.
First Assault
The initial attack will consist of constant waves of enemies climbing onto the Deeping Wall, and they will be accompanied by one catapult. Eliminate the catapult to prevent it from damaging your allies, which can be done in two max range shots from the catapult. Once the catapult is eliminated, you should have some time to fire on the incoming enemies before they set up the Ladders and Grappling Hooks. Alternate between firing the catapult and ordering Commanders to keep your allied Soldiers alive.
Second Assault
The last attack will not differ much from the previous attack other than the fact that there will be two enemy catapults now. Eliminate one to make the other one move within range. Once they are eliminated, repeat the same process as in the first attack.
Once the battle is near its end, Aragorn will shout to clear the Deeping Wall. The wall will explode in less than a minute, instantly killing anyone on top of it.
Notes
Quest Text
Background
The full weight of Saruman's army prepares to crash down upon the valiant defenders atop the ramparts of the Deeping Wall.
Objective
Saruman's army has come to Helm's Deep. The wall must be held lest the fortress fall.
Merit Rating
This quest starts with Full Rating Merit.
Gallery
References