Glumhallow
Jump to navigation
Jump to search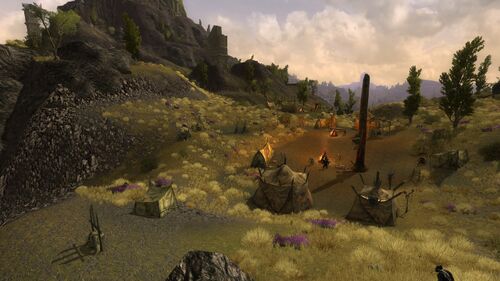 Location
Glumhallow is a landmark within The Weather Hills in the Lone-lands. [30.1S, 38.6W]
These orc camps lie centrally in The Weather Hills, west of Weathertop and next Candaith's Encampment with just a sheltering ridge in between. The location is actually a number of smaller White Hand camps spread out and controlling this section.
Deeds
The following deeds can be obtained by visiting this location:
Quests
Starting:
Involving:
NPCs

Pengail - If captive
Mobs
The following creatures are found within this area:
Lore
In the northern reaches of the Weather Hills lies Glumhallow, an ancient way-station. Orcs have made the place their residence, where they plot the invasion of Eriador.
Gallery