Epic Battle: The Glittering Caves
Jump to navigation
Jump to search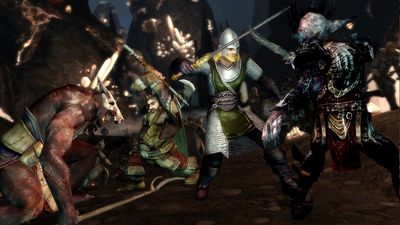 The Glittering Caves is an Epic Battle for Helm's Deep. It can be run Solo/Duo or in a Small Fellowship by characters Level 10 and higher. This is the fourth battle you must complete in Solo/Duo mode before you may move on.
Lore
Also known as Aglarond, the Glittering Caves is a series of jewelled caverns beneath the White Mountains behind Helm's Deep which served as a refuge for the Rohirrim women, children and elderly during the Battle of the Hornburg. Following the destruction of the Deeping Wall several Rohirrim including Éomer and Gimli were forced to retreat into the caves, defending it against Saruman's Orcs. When Gimli first entered the caves was taken by its beauty, and following the conclusion of the War of the Ring he established a Dwarf colony here and was crowned Lord of the Glittering Caves.[1][2][3][4][5]
Quests
All quests, including the main objective, can only be completed once per day.
Solo/Duo
Small Fellowship
Walkthrough & Notes
Walkthrough
First Wave
This instance is arguably one of the more difficult to traverse due to the lack of a map and the terrain. Familiarize yourself with the routes and be prepared to backtrack in order to reach areas quickly. The first attack will begin on either the east (Gimli) or west (Gamling) side of the caves. Keep your Soldiers alive as much as possible and be prepared for the possible side objectives, Stalactites Over the Bridge and Bombs and Bats on the west or Spider Assault and Cave In on the east.
Second Wave
The second attack will be on the opposite side of the caves, and the battle will go more or less the same as the west side. Once you are called to the center, the enemy will begin to march towards your location. If you wait too long to get to the centre defensive points, you will be instantly defeated by enemy archers.
Final Wave
The last wave will march towards the center area of the caves. There will be more allied Soldiers per group but more enemies as well. Be prepared for the possible side objectives, Preparing the Charge and Civilian Defense.
Notes
Quest Text
Background
With the destruction of the Wall, Gimli and Éomer now rally any they can find to hold the line and protect all huddled within.
Objective
Withstand the enemy waves and protect the civilians at the center of the Glittering Cave.
Merit Rating
This quest starts with Full Rating Merit.
Gallery
References