Cirith Ungol (Lhingris)
Jump to navigation
Jump to search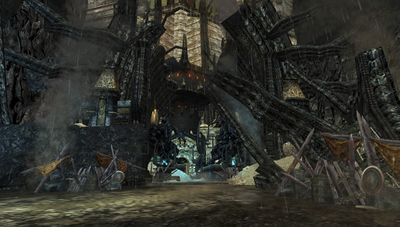 Location
Cirith Ungol (Sindarin for Cleft of the Spider or Pass of the Spider) is a small area and a point of interest within Lhingris in the Plateau of Gorgoroth. [60.3S, 7.3E] It also contains three interior public dungeon spaces, together comprising the Tower of Cirith Ungol.
The entrance to the main interior of the Tower is just across the courtyard gate. [60.4S, 8.1E] The northern wing of this interior has stairs that climb up to where a ladder provides access to the top. [60.3S, 7.6E] Beyond this is a walkway that bridges the inner courtyard and provides access to the turret of the Tower. [60.3S, 7.2E] This is a much smaller space, with another set of stairs that lead to another ladder that provides access to the uppermost chamber.
Player characters initially visit Cirith Ungol disguised as the Silent One to go among the Orc garrison. After completion of Necessary Sacrifices, the situation changes. Cirith Ungol becomes overrun by spiders, who fight against the remaining Orcs.
Note: Cirith Ungol does not have its own map. Opening the map displays the full Plateau of Gorgoroth map. All of Cirith Ungol is also displayed on the map of Lhingris, however, so it may be helpful to zoom in to this smaller map to get a better sense of location. Once you enter the tower itself there is a map of the interior.
Landmarks
These landmarks are located within Cirith Ungol:
The Tower of Cirith Ungol
NPCs
See "list of NPCs" within Cirith Ungol

Deeds
The following deeds can be advanced by visiting this location:
Quests
See "Mordor: Lhingris Quests" for more quests
Starting:
Involving:
Creatures
The following creatures are found within this area:
Maps
Lore
↑ a b c Shelob's Hunger
↑ J.R.R. Tolkien, The Lord of the Rings, The Two Towers, "The Forbidden Pool"
↑ J.R.R. Tolkien, The Lord of the Rings, Appendix A, "The Númenorean Kings", "Gondor and the Heirs of Anárion"
Gallery
Views of Cirith Ungol.

Overlooking Lhingris and Talath Úrui from near the entrance.

Cirith Ungol attacked by spiders and covered in webs.

Orcs and spiders continue to do battle in the courtyard.
Views of the Tower of Cirith Ungol.

The Under-gate has been ripped open, exposing a passage to Torech Ungol.