Avair
Jump to navigation
Jump to search
| | |
| --- | --- |
| | Avair |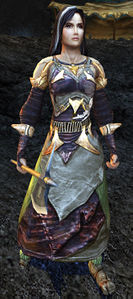 Description
Avair is a champion of the Trév Duvárdain, one of the hillman tribes allied with the forces of Angmar. She appears in a quest instance that takes place at the road through Fail-á-Khro.
A singularly ferocious and determined warrior, she serves as the tribe's representative in the Rite of Clúcath. In one of these competitions, she battled Násan, champion of the Trév Gállorg, to a standstill. At first she had the advantage, then he began to overtake her. Their battle ended when Domongart, chieftain of the Trév Duvárdain, became impatient and cried out, distracting Násan. Avair defeated her foe, and then executed him at Domongart's command.
She is defeated at a subsequent rite of Clúcath. After this failure, Domongart strips her of her name and casts her out of the tribe. Though the Trév Gállorg offer to take her in, her pride will not allow her to accept the mercy of her enemies. She is left to wander the nameless lands alone, and later she will appear as Gun Ain, "without name".
Quest Involvement