Quest
:
Fushaum Bal South: The Bandit's Stash
Jump to navigation
Jump to search
Walkthrough & Notes
The bandit chief's treasure chests are located along the back wall to the left and right of Thâng, the Knife and Mâlatuk, the Hammer.
This repeatable quest has a 2 minute cooldown.
Reputation with the factions Enmity of Fushaum Bal south and Enmity of Fushaum Bal north begin with Outsider. Completing a quest for one faction typically results in a decrease in reputation for the other faction, but not this quest.
This is one of the few quests that does not result in a decrease in reputation.
This quest is available with Neutral reputation level with Enmity of Fushaum Bal south.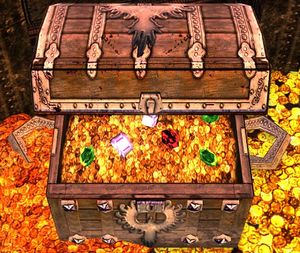 Quest Text
Bestowal dialogue
'I ask of you to count my treasures. Not a gold shall be missing or someone will have to pay.'
Note: This quest is only available while the quest, The Fushaum Resolution, is underway.
Background
The encampment of Fushaum Bal is a lawless home to evil men once under the command of Sauron.
Objective 1
The Haradrim bandit chief's stash can be found in Fushaum Bal South.
You should count the stash for Thâng to make sure it is all there.
CHEST "Just one of the many chests in the bandit chief's stash."
Counted treasures (8/8)
Objective 2
Thâng can be found at Fushaum Bal South.
You should talk to Thâng.
Thâng, the Knife: 'Everything seems to be in order then. Your reward is keeping your life!'
Thâng sighs.
'You should appreciate a good jest now and again.'