The Slag-hills
Jump to navigation
Jump to search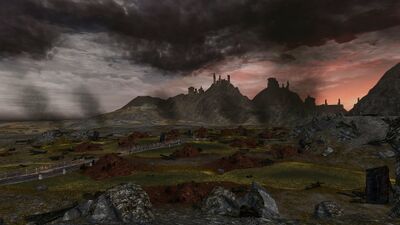 Location
The Slag-hills is an area within the Wastes.
The Slag-hills are great mounds of debris, composed of blasted stone and earth, that had been piled over many years by toiling Orcs in front of the Morannon.
Lore
North amid... noisome pits lay the first of the great heaps and hills of slag and broken rock and blasted earth, the vomit of the maggot-folk of Mordor; but south and now near loomed the great rampart of Cirith Gorgor, and the Black Gate amidmost, and the two Towers of the Teeth tall and dark upon either side.[1]
Therefore Aragorn now set the host in such array as could best be contrived; and they were drawn up on two great hills of blasted stone and earth that orcs had piled in years of labour. Before them towards Mordor lay like a moat a great mire of reeking mud and foul-smelling pools.[2]
The men of the West were trapped, and soon, all about the grey mounds where they stood, forces ten times... their match would ring them in a sea of enemies....
Upon the one hill Aragorn stood with Gandalf, and there fair and desperate was raised the banner of the Tree and Stars. Upon the other hill hard by stood the banners of Rohan and Dol Amroth.... And about each hill a ring was made facing all ways, bristling with spear and sword.[3]
Landmarks
These landmarks are located within The Slag-hills:
References
↑

The Return of the King, LoTR Book 5, Ch 10, The Black Gate Opens

↑

The Return of the King, LoTR Book 5, Ch 10, The Black Gate Opens

↑

The Return of the King, LoTR Book 5, Ch 10, The Black Gate Opens
Quests
Maps