The Fanged Lair
Jump to navigation
Jump to search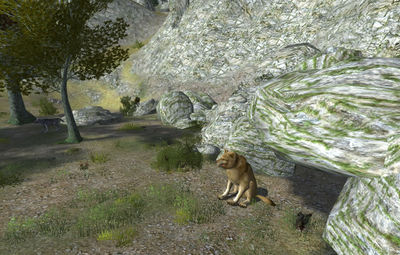 Location
The Fanged Lair is a landmark within Pren Gwydh in Dunland. [79.2S, 17.0W]
Just outside of Galtrev to the northwest, at the foot of the cliffs of the Bonevales, there is a narrow valley with rocks and boulders which is the den of a pack of ferocious wolves. As this is just west of the Lumber-camp and nearby farms, these wolves pose a serious threat.
Deeds
The following deeds can be obtained by visiting this location:
Quests
Involving:
Mobs
The following creatures roam within this area:
Lore
Once, before the harbingers of war had come to Dunland, the bravest of warriors would test themselves against the wolves, keeping the population in check. The coming war has changed many things in Galtrev. Dunlending warriors have gone off to prepare for war and the wolves have become quite bold, attacking anyone they encounter — Dunlending or Duvodiad.