Sâd Meryrn
Jump to navigation
Jump to search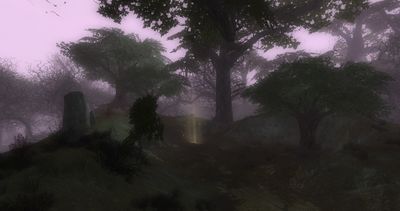 Description
Sâd Meryrn an ancient wood located in southern the Drownholt in Mirkwood. [18.8S, 57.6W]
It is home to corrupted huorns.
Quests
Starting:
Involving:
Deeds
These deeds can be advanced by visiting Sâd Meryrn
NPCs
Creatures
The following creatures are found within these borders:
Lore
Even trees can be corrupted by evil influences, and the huorns of Mirkwood live out their long days growing ever blacker and ever more corrupt. Their home of Sâd Meryrn is a sad and lonely place, filled with the malice of the trees.