Quest
:
Fushaum Bal North: Burning the Lawless
Jump to navigation
Jump to search
Walkthrough & Notes
Destructible tents are scattered throughout Fushaum Bal South. Destroying the first tent starts the quest. Right-click on or Select and Use the tent to destroy it.
It is possible, with proper timing, to destroy a tent while townspeople are threatening and still back away in time before they attack.
This repeatable quest has a cooldown of 2 minutes.
Reputation with the factions Enmity of Fushaum Bal south and Enmity of Fushaum Bal north begin with Outsider. Completing a quest for one faction typically results in a decrease in reputation for the other faction.
This quest is available at any reputation level with Enmity of Fushaum Bal north.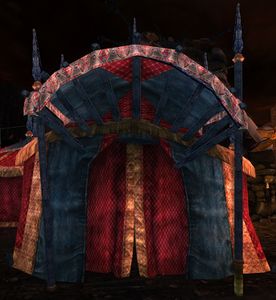 Quest Text
Bestowal Dialogue
In order to gain more favour with the men of Fushaum Bal north, you realize that you will need to destroy tents at Fushaum Bal south.
Note: This quest is only available while the quest, The Fushaum Resolution, is underway.
Background
The encampment of Fushaum Bal is a lawless home to evil men once under the command of Sauron.
Objective 1
Fushaum Bal is located in Talath Úrui.
You should destroy tents in Fushaum Bal south.
Destroyed tents (8/8)
Objective 2
Destroyed many tents at Fushaum Bal South.
You have destroyed many tents at Fushaum Bal south and for that the leader of Fushaum Bal north is pleased with your efforts.