Legendary Server
Jump to navigation
Jump to search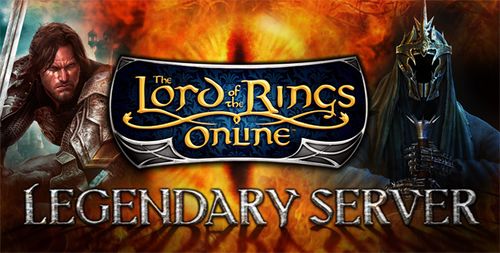 The Legendary Servers
On Thursday November 8, 2018, SSG introduced a Legendary Server.
Details on the Legendary Server can be read here: Legendary Server Announcement.
Server names 'Anor' and 'Ithil' (Sindarin for 'Sun' and 'Moon')
Debuff applied to all characters on the Servers
Start Item
Information
There are many items and rewards one can obtain and earn on the Legendary Servers, including cosmetic cloaks, titles, and frames. Some of these items are only available to characters on their Legendary Server while others will be awarded to all of your characters across your account. The account-wide items auto-bestow and are available the next time the character is logged in (often there will be an alert regarding the reward).
Eriador
Titles
Moria and Beyond
Titles
Quests
Currencies
Deeds
Legendary Server Deeds Overview
Deed
Title
Minimum Level
Summary
Automatic by leveling and completing the epic?
There and Bree Again
Bree-seeker
14
Adventure to Level 15 on a legendary server.
Yes
Daughter of Strife
Rekindler of Light from the Shadow
40
Complete Volume I, Book 15: Daughter of Strife on a legendary server.
Yes
Legendary Angmar
Shadow-breaker
40
Complete Legendary Angmar: Carn Dûm, Legendary Angmar: Urugarth, and Legendary Angmar: The Rift of Nûrz Ghâshu.
No
Rambling Rover
Rambling Rover
40
Use 'Universal Title Writ - Rambling Rover', bartered from Quartermaster (Legendary Angmar Rewards) in Gath Forthnír for 15 Legendary Coins of Angmar.
No
Legend of Angmar
Legend of Angmar
45
Use 'Title Writ - Legend of Angmar', bartered from Quartermaster (Legendary Angmar Rewards) in Gath Forthnír for 5 Legendary Coins of Angmar.
No
Out From the Shadows
Legendary Traveller
49
Adventure to Level 50 on a legendary server.
Yes
Legendary Moria
Delver of the Darkest Depths
50
Complete Legendary Moria: Dark Delvings, Legendary Moria: Fil Gashan, Legendary Moria: Skûmfil, Legendary Moria: The Forges of Khazad-dûm, Legendary Moria: The Forgotten Treasury, Legendary Moria: The Grand Stair, Legendary Moria: The Sixteenth Hall, Legendary Moria: Filikul, and Legendary Moria: The Vile Maw.
No
Scourge of Khazad-dûm
Bane of Shadow and Flame
50
Complete Volume II, Book 8: Return to Azanarukâr on a legendary server.
Yes
Legend of Moria
Legend of Moria
55
Use 'Title Writ - Legend of Moria', bartered from Quartermaster (Legendary Moria Rewards) in The Twenty-first Hall for 15 Legendary Coins of Angmar.
No
Through the Mines
Blaze of Hope
59
Adventure to Level 60 on a legendary server.
Yes
Legend of Mirkwood
Legend of Mirkwood
60
Use 'Title Writ - Legend of Mirkwood', bartered from ? In ? for ?.
No
Legendary Mirkwood
Nemesis of the Necromancer
60
Complete Legendary Mirkwood: Barad Guldur, Legendary Mirkwood: Dungeons of Dol Guldur, Legendary Mirkwood: Sammath Gûl, Legendary Mirkwood: Sword-hall of Dol Guldur, Legendary Mirkwood: Warg-pens of Dol Guldur on a legendary server.
No
Echoes of the Dead
Noble and True
60
Complete Volume III, Book 3: Echoes of the Dead on a legendary server.
Yes
To the Hill of Dark Sorcery
Stalwart Journeyer
64
Adventure to Level 65.
Yes
Legend of Limlight Gorge
Great River Guide
68
Complete Limlight Gorge Explorer Deed, The Spirits of the Limlight Deed, Ancient Ruins of the Limlight Deed, Quests of the Limlight Gorge Deed, and Earn Kindred standing with the Heroes of Limlight Gorge on a legendary server.
No
Mists of Anduin
Bane of the White Wizard
70
Complete Volume III, Book 6: Mists of Anduin on a legendary server.
Yes
Into the Iron Fortress
Dispeller of Isengard
74
Adventure to Level 75 on a legendary server.
Yes
The Third Marshal
Eorlingas by Deed
78
Complete Volume III, Book 9: The Third Marshal on a legendary server.
Yes
Legendary Wildermore
Shatterer of Núrzum
80
Complete Final Stand on a legendary server.
Yes
Legend of Rohan
Legend of Rohan
80
Finish Rebuilding Hytbold on a legendary server.
No
Up to the Mark
on Horseback
84
Adventure to Level 85 on a legendary server.
Yes
The Battle of the Hornburg
Legend of Helm's Deep
89
Complete Volume III, Book 13: The Battle of the Hornburg on a legendary server.
Yes
Legend of Fangorn
Tree Whisperer
90
Complete Volume III, Book 14: The Waters of Isengard and Earn Friend standing with the Ents of Fangorn on a legendary server.
Yes
Forth Eorlingas!
Helmingas by Deed
94
Adventure to Level 95.
Yes
Siege of the White City
Glimmer in the Dark
95
Complete Volume IV, Book 4: Siege of the White City on a legendary server.
Yes
Beacon of Gondor
Beacon
95
Complete Beacons of West Gondor and The Southern Beacons on a legendary server.
No
Ashes and Stars
Legend of Gondor
95
Complete Ashes and Stars, Chapter 7 on a legendary server.
No
A Glimmering in the Dark
of One Hundred
99
Adventure to Level 100 on a legendary server.
Yes
Rewards
Items

Writs
Gallery
Cloaks
Frames