Forodwaith
Jump to navigation
Jump to search

"I like this land. It reminds me of the twilit wilds, far away in the North, where my heart remains." - Calenglad
Location Stub
This article or section is marked for missing location information.
Please visit Create new location and help expand knowledge about this wondrous place.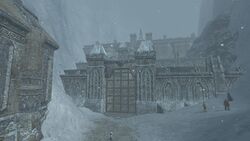 Forodwaith is a land north of Eriador and Rhovanion. In Lotro a road runs through the Ironspan and is said to connect to Forodwaith.
Forodwaith is Sindarin for Northern Waste. It is the name for the icy land north of the Iron Mountains of the First Age. Little was known of it, except that it was extremely cold due to the proximity to the Gap of Ilmen, and Morgoth's evil cold.
After the War of Wrath and the breaking of the World, the Iron Mountains were mostly destroyed, and the area of Forodwaith that lay north of Eriador became known as Forochel, together with the great ice-bay and cape that carried the same name.
Connected Locations
Maps