Echad Dagoras
Jump to navigation
Jump to search
"I like this land. It reminds me of the twilit wilds, far away in the North, where my heart remains." - Calenglad
Location Stub
This article or section is marked for missing location information.
Please visit Create new location and help expand knowledge about this wondrous place.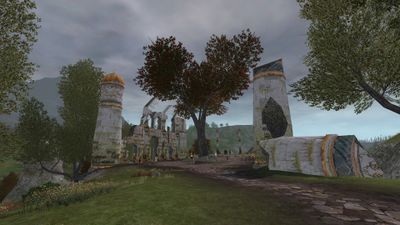 Description
Echad Dagoras is the first settlement as soon as you arrive from the north in Enedwaith at [58.3S, 14.7W] The Grey Company has set up their camp in an ancient elven ruin and is making first contact with the native Dunlendings of the region.
Quest Involvement
See Enedwaith Quests for all quests in Enedwaith

Echad Dagoras
Dagoras

[61] A Pointed Message
[61] Uniformity Repeatable
Epic Quests
NPCs
Vendors
Townsfolk
Services