The Feast of the Greenfields
Jump to navigation
Jump to search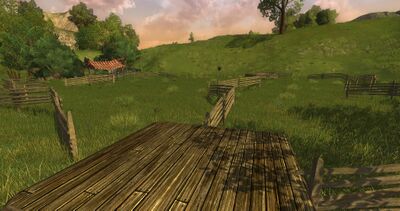 The Feast of the Greenfields was first added during Spring Festival 2009 and is partially an in-game tribute to St. Patrick's Day. It is held every spring just east of Brockenborings in the Greenfields. The Hobbits of the Shire pay their respects to Bandobras "Bullroarer" Took, who led the defense of the Shire the last time the goblins invaded in 2747 of the Third Age. The feast culminates in the drinking game Bullroarer's Challenge, based on how Bandobras use to run atop the fences of the Great Smials to stay in shape and hone his reflexes as the legend goes.
Quests
Once you finish either Challenge once, you can repeat it daily without having to repeat the earlier quests in the chain.
Tips
If your computer is not the most powerful and you sometimes get graphic stuttering, turn your graphic settings to the absolute minimum before trying the quest so you are more likely not to stutter and trip off the fence.

Turning your graphics to the minimum should also disable the post-processing effects which cause most of the drunk visual effect.

Learn to steer with your mouse instead of keyboard for finer control.

You use your left hand on keyboard just to control forward and back movement with left thumb on spacebar to jump.
You use your right hand on mouse, holding down the right mouse button to steer where ever you point the mouse.

You can practice running along the fence sober as much as you want before attempting the quest challenges.
NPCs
Video Guide
You can find a video guide to the fence running by Blippedy Blop here: https://www.youtube.com/watch?v=5rbMnIkmTww