Quest
:
Lost Lore of Gorgoroth: Talath Úrui
Jump to navigation
Jump to search
Walkthrough & Notes
This quest is one of several regional Lost Lore of Gorgoroth quests. These quests revolve around collecting audio journals that provide context to and depictions of historical events. Every time you collect pages of a tome, a short audio log will play. When all the pages are collected for a region, you will receive a completed text and a housing item that plays the entire audio.
You can read the complete lore text at Audio Journals: Talath Úrui.
The pages needed to complete this quest are found at the following coordinates: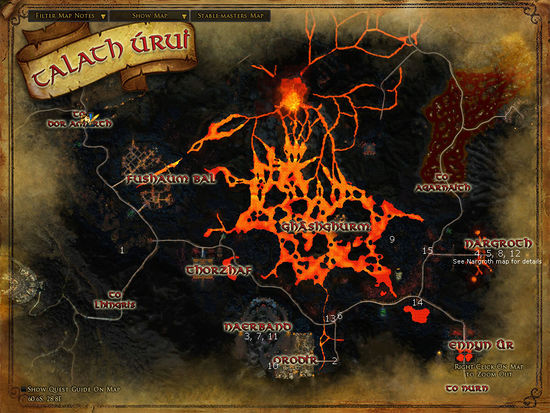 Rewards
Quest Text
Bestowal dialogue
You've found a torn page of journal. Its edges are singed, as if it was too close to an open flame. Perhaps you can find other pages around Talath Úrui and complete the story.
Background
Pages of a journal can be found scattered around Talath Úrui. Perhaps you can complete the story if you find them all.
Objective 1
Collect Page 1
Collect Page 2
Collect Page 3
Collect Page 4
Collect Page 5
Collect Page 6
Collect Page 7
Collect Page 8
Collect Page 9
Collect Page 10
Collect Page 11
Collect Page 12
Collect Page 13
Collect Page 14
Collect Page 15
Singed Pages can be found scattered around Talath Úrui.
You should collect the pages to complete the story.
Objective 2
Completed.
The story is complete. This Uruk, now a Ghâsh-hai called Túmak Smoke-drinker, witnessed the battle between Urudanî Stonemaiden and Borangos the Horror! And then, he was changed. If Borangos can cause such a change in Urudanî and his Uruks, who knows what other powers he possesses.