Nona
Jump to navigation
Jump to search
Description
Nona is a Dunlending woman from Lhanuch, the daughter of Suvulch and the sister of Wadu. She is a fierce warrior, ever eager to fight the enemies of the Uch-lûth. She becomes involved with Rangers and outsiders who come to Lhanuch, and goes south into Dunland to strike against the traitorous allies of Saruman. Eventually she travels very far indeed from her home in Enedwaith, crossing the Misty Mountains into Lothlórien and Rohan beyond, where she meets Horn and Corudan.
Nona (Enedwaith)
| | |
| --- | --- |
| | Nona |
Quest Involvement
Vol. III, Book 2:
Vol. III, Book 3:
Nona (Dunland)
Location
Nona appears at several location in Dunland as you progress through the Volume III, Book 4 quests.
Quest Involvement
Vol. III, Book 4
Nona (Travelling Companion)
After she appears in a troubling dream, Nona decides to accompany you as you continue through the epic quest line, appearing in various locations throughout eastern and western Rohan.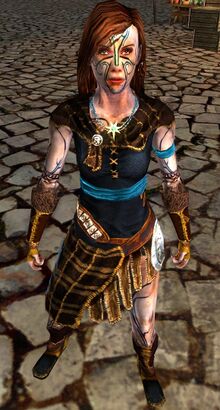 Quest Involvement
Vol. III, Book 6
Vol. III, Book 7
Vol. III, Book 8
Vol. III, Book 10
Vol. III, Book 11
Vol. III, Book 12