Munfaeril's Shrine
Jump to navigation
Jump to search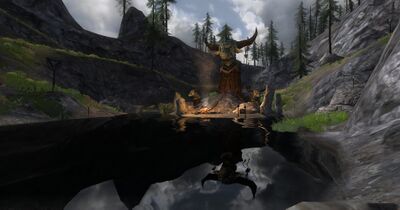 Location
Munfaeril's Shrine is a landmark within Carreglyn in Dunland [83.8S, 16.7W].
Within it is found the Ancient Placard and the Ox-Spirit Munfaeril.
Deeds
The following Carreglyn Deed requires visiting this location:
Quests
Starting:
NPCs
Mobs
The following creatures are found within this area:
Lore
This shrine was erected by the Uch-luth long ago as a place to commune with Munfaeril, a spirit of ancient days worshipped as the Uch-gwirod, the Ox-spirit, by the people of Barnavon.
Gallery