Morannon (War of the Last Alliance)
Jump to navigation
Jump to search
Location
The Morannon (War of the Last Alliance) is a battlefield in the War of the Last Alliance, taking place in Dagorlad, S.A. 3434, in the Wastes.
This is where new High Elf characters begin, thousands of years before the main events of the game.
NPCs
See list of all NPCs within Morannon (War of the Last Alliance)

Quests
Starting:
Creatures
The following creatures are found within this area:
Maps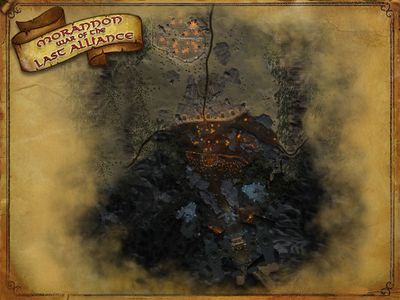 Lore
In the Year 3434 of the Second Age, a great Alliance of Elves and Men assembled in defiance of the Dark Lord's will to conquer all the lands of Middle-earth. The High Elves, the blessed of Valinor who suffered the greatest wraths of Sauron and Morgoth the Enemy, now seek to ensure that his evil is forever banished from the world.[1]
References